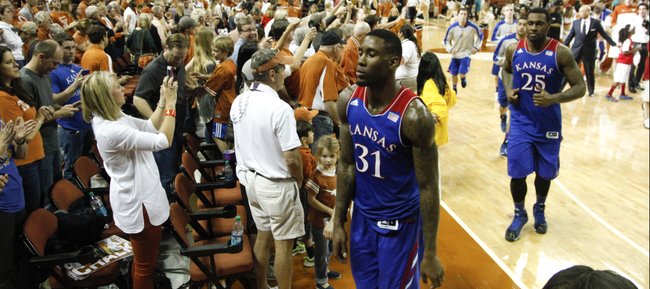 Photo Gallery
Kansas basketball v. Texas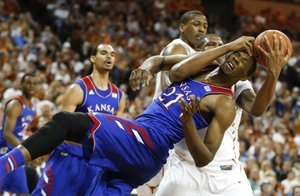 Images from Saturday's game between the Jayhawks and Longhorns at Erwin Center in Austin, Texas.
Podcast episode
Bill Self says Texas the hungrier team won at Texas
Podcast episode
Perry Ellis and Wayne Selden discuss 81-69 loss to Texas
Podcast episode
Texas coach Rick Barnes blasts the "Overrated!" chant.
TEXAS 81, KANSAS 69
KEEGAN RATINGS
Austin, Texas — Those who like drama during the course of the conference season have to be happy Texas' basketball team crushed Kansas University, 81-69, on Saturday in Erwin Center.
The (16-5, 7-1) Jayhawks — who had raced to a 7-0 start and were threatening to leave nine schools in their wake while storming toward a 10th consecutive crown — now hold just a one-game lead on the (17-4, 6-2) Longhorns and two-game margin on Oklahoma heading into Tuesday's game at Baylor.
"Obviously we could have put ourselves in unbelievable position today," KU coach Bill Self said, realizing a victory could have given the Jayhawks a whopping three-game lead on their closest competitors.
"It will come down to the last week," Self predicted. "I said 14-4 would win it. I'm not sure I'm going to be far off on that one."
The Jayhawks entered Saturday's game on the heels of a 92-81 home victory over Iowa State, after which coach Fred Hoiberg said he wouldn't be shocked if KU ran the table in league play.
Saturday's game —  in which KU hit just 25.8 percent of its first-half shots in falling behind 38-23 at the break — made the undefeated talk seem silly in retrospect. 
The Longhorns, who had a whopping 12 blocked shots to KU's four and out-rebounded the Jayhawks, 44-37, held a game-high 20-point lead, 47-27, with 16:40 to play. UT's lead never dipped below 11 the rest of the way.
"He (Self) told us he knew we weren't going to run the table in the Big 12, but he also said they outplayed us, simple as that," said KU sophomore Brannen Greene, who had three points off 1-of-3 three-point shooting in 10 minutes.
"He also said they outplayed us, simple as that. He said we are in Big 12 Conference play, it's a quick turnaround, get ready for the next game. That's what we're trying to do, focus on the next game."
There were plenty of negatives to dwell upon Saturday.
Point guard Naadir Tharpe had three points off 1-of-4 shooting with three assists against two turnovers in 26 minutes. He played just 11 minutes the second half to Frank Mason's nine and didn't play at all down the stretch. Mason had eight points off 3-of-8 shooting with two assists and a turnover in 16 minutes.
"Obviously I will not throw anybody (under the bus) ... there's a reason he was not in the game late, because I felt he wasn't impacting the game on either end," Self said of Tharpe. "Naadir has played great for us. I felt we were better off having a guy in the game who could drive it and put pressure on the defense. Frank did a pretty good job with that."
Noted Tharpe: "At the end of the day, we know what we need to do on the court. I don't feel we did it as a whole starting out with me. I don't feel I played well at all. You will have games like that. There are games you can play bad and win. We didn't get any stops.
"I felt like we didn't come out with the mindset and focus like we usually did. I felt like we kind of just were giving them the game the whole time."
Andrew Wiggins had seven points off 2-of-12 shooting with five rebounds in 30 minutes. He missed his first nine shots.
"I think he settled a lot today," Self said. "They played him smart and kept him out of the paint and made him shoot jumpers. When you don't make jumpers, you can not look as good. It's not just him, but Perry (Ellis, 11 points, two rebounds) or Naadir or Joel (Embiid, eight points 10 rebounds), any of 'em. We didn't get going at all in several of our starting spots. I thought Texas did a good job on Andrew."
Embiid, who hit three of nine shots, had two blocks, three turnovers and two assists in 25 minutes.
"I don't think so," Self said, asked if Embiid's recent knee sprain had a negative effect on the 7-footer. "It may be sore. That didn't have anything to do with anything.
"I thought our big guys played pretty soft," Self added. "I thought they may have surprised us a little bit with their athletic ability. We didn't do a good job of playing physical and attacking the rim like we should."
KU's shooting as a team was abysmal. KU hit its first four shots, then went 4-for-27 the rest of the first half. KU finished at 25.8 percent for that half in lagging, 38-23, at the break and hit 38.5 percent for the game. KU hit six of 14 threes to Texas' three of 10.
"We played pretty well first seven games of league play," Self said. "We shot 50 percent in every game or close (49.2 percent at Iowa State; over 50 in all others). The law of percentages will prevail eventually. When you go on the road, you are not guaranteed to shoot 50 percent or even 40 percent.
"The way to win on the road is make sure your opponent plays bad. We did not have the mindset going into the game maybe because we didn't anticipate having to play that way," Self said, adding that he felt Texas was a hungrier team than the Jayhawks, partly because of being energized by the home crowd.
The Longhorns used a 20-6 run to stretch an 18-15 lead to 38-21 and basically take away all drama in this one. Isaiah Taylor had 23 points off 7-of-14 shooting, while Jonathan Holmes had 22 off six-of-13 shooting with three blocks and three steals. Prince Ibeh had four blocks for UT.
"I felt we didn't compete that hard. That's what happens," KU's Ellis said. "We didn't come with a lot of energy and that's the result."
"We were on our heels the whole time. They were more prepared to play than we were. They looked fresher," Self said. "They were faster than us. The whole deal was ... does their speed offset our length? It did. Taylor was by far the best player in the game. Holmes had a fabulous game. They protected the rim. Their big guys played much better than our big guys."
As a result ... "it was a dominating performance by the Longhorns over us today," Self said. "We never put ourselves in position to put any game pressure on them."
And that, he said, was disappointing.
"I thought we would play better. I certainly knew Texas would play well. We can come down here and play well and lose, that's our league and that's every time you play. We didn't give ourselves the best chance and certainly Texas had a ton to do with that."
Tip for Tuesday's KU-Baylor game is 6 p.m., in Waco, Texas.