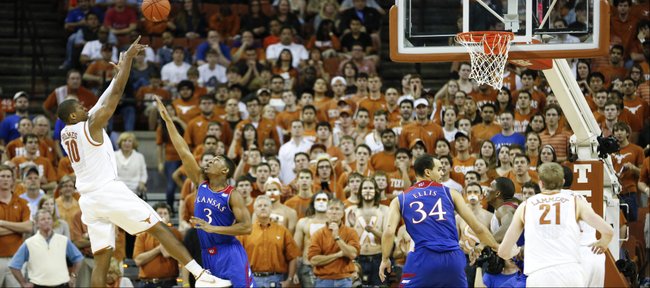 Photo Gallery
Kansas basketball v. Texas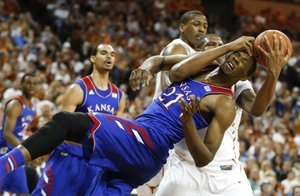 Images from Saturday's game between the Jayhawks and Longhorns at Erwin Center in Austin, Texas.
Podcast episode
Bill Self says Texas the hungrier team won at Texas
Podcast episode
Perry Ellis and Wayne Selden discuss 81-69 loss to Texas
Podcast episode
Texas coach Rick Barnes blasts the "Overrated!" chant.
TEXAS 81, KANSAS 69
KEEGAN RATINGS
Austin, Texas — A young, hungry, cohesive Texas basketball team stormed out of the enormous Big 12 shadow cast by Kansas and there went the Longhorns' anonymity.
By whipping the Jayhawks, 81-69, Saturday in the aging Erwin Center, the 'Horns tore the veil off of their secret: They're a very good basketball team, a bona fide contender for the Big 12 title.
At least they were as the hunters. Now, with a victory over a ranked opponent for a fourth consecutive game, they're one of the hunted.
Texas coach Rick Barnes, in the  aftermath of the wire-to-wire pummeling, already resumed working on his players' heads.
"It is such a fine line between winning and losing that if you start drinking the poison and think that you are there, it all gets away," Barnes said. "This is one game, and I want them to enjoy it because they should, but we have a long way to go."
And they just added a backpack full of bricks known as expectations and mirrors that look better to their journey.
Kansas knows all about those. 
KU's young players — who play in front of a sellout crowd every night at home and many nights on the road in a program that stretches a red carpet reserved for the national media all the way to the tarmac of Kansas City International Airport and back — constantly are reminded by such circumstances of how special they are. That's a lot of poison, but for the most part they have had the discipline to avoid it.
But it can't be easy, which is why periodic reminders that diving all over the court for loose balls can mean more than special talent can refocus a team.
Texas did that for 40 minutes, Kansas for 20. Consider the Jayhawks reminded. 
They don't need a reminder that national rankings for high school players mean nothing. They aren't the ones doing the ranking, just the ones ranked. But this certainly was a perfect game to demonstrate that.
Andrew Wiggins, No. 1-ranked recruit by Rivals, was handcuffed by Texas utility man Demarcus Holland. Texas freshman Isaiah Taylor, ranked the No. 302 recruit by another service, was, according to KU coach Bill Self and anyone else who had a good enough seat to watch the action, "by far the best player in the game."
Taylor whipped around KU's guards as if his first name were Tyshawn. He scored 23 points, made half his 14 field goals, 1 of 2 three-pointers and all eight free throws.
"I thought Texas was the hungrier team today," Self said, expressing an indisputable opinion.
Pity poor Baylor, catching Kansas on Tuesday, when it is coming off a shellacking.
"That's not being negative on our guys because when they come to our place, we better be the hungrier team," Self said.
As is so often the case on the road, whether it be Kansas carrying suitcases or a Big 12 underdog visiting Allen Fieldhouse, it felt as if more whistles went the way of the home team. When that happens to young teams, it makes them more prepared for the next time it does.
Not that a disparity in energy, hunger and possibly even calls tells the whole story of the scoreboard. Texas is a team with parts that blend perfectly. They have two jets (Taylor and Javan Felix) putting pressure on defenses, a shot-blocker (Cameron Ridley) backed up by another one (Prince Ibeh) at center and a do-it-all forward (Jonathan Holmes, 22 points, four boards, three blocked shots), plus a defensive stopper (Holland) on the perimeter. They play so hard together, play so well. Can they resist the temptation to drink the poison?