Photo Gallery
Kansas basketball v. Lafayette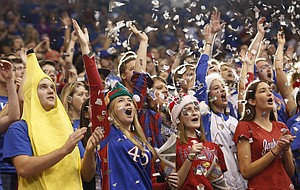 Images from Saturdays game between the Jayhawks and Leopards at Allen Fieldhouse
Podcast episode
Kansas University basketball coach Bill Self answers questions following his team's easy win over Lafayette. The coach discusses changes to two of the team's five starters for the game, as well as the standout performances of Kelly Oubre Jr. and Hunter Mickelson.
Podcast episode
Kansas University basketball players Kelly Oubre Jr., Frank Mason III and Hunter Mickelson meet with media members after contributing to a blowout victory agains Lafayette on Saturday at Allen Fieldhouse.
KANSAS 96, LAFAYETTE 69
Lafayette's game plan on Saturday afternoon at Allen Fieldhouse was to shoot well from the outside on offense, help inside on defense and hope to catch a couple of breaks that would allow the Leopards to hang in there against 10th-ranked Kansas University on its home floor.
By game's end, Lafayette was able to put a checkmark in each of those boxes, but that did not prevent the Jayhawks from rolling to a 96-69 victory.
A big reason for KU's success was the Jayhawks' ability to match Lafayette's outside shooting. The Leopards (7-3) entered Saturday shooting 42 percent from three-point range as a team and drained 12 of 26 three-point tries (46 percent) against the Jayhawks. KU's sharp-shooters answered that by knocking in the same number of three-pointers (12) in three fewer attempts (23) while shooting 52 percent from the three-point range.
Several of KU's triples came on possessions that followed Lafayette makes from the outside, which not only allowed Kansas (9-1) to maintain its lead but also got into the heads of the Leopards.
"After we make a shot, we know we need to play tough defense and hustle back," said sophomore guard Monty Boykins, who scored 10 points and hit all three of his three-point attempts. "But when a team hits a shot right after that, it's pretty demoralizing."
Lafayette coach Fran O'Hanlon said the fact that KU played with a lead for so much of Saturday's victory may have helped the home team's shooting percentage.
"We were really trying to help inside a lot and they started to hit some threes, some long threes," O'Hanlon said. "When you're playing a team and they have a 10- 12- 14-point lead, those threes are a lot less pressure than if it's in a close game."
Despite KU's lights-out shooting, O'Hanlon and his players remained proud of the way they shot the ball and how it allowed them to play the Jayhawks tougher than many people might have expected.
"We have to shoot well to be in games," O'Hanlon said. "And I thought we shot the ball well. We didn't get as many shots as they did, and a lot of that had to do with their rebounding."
KU out-rebounded Lafayette 44-26, and that was one of those little things — with turnovers (12-5 in KU's favor), steals (8-3, KU) and depth being the others — that O'Hanlon and his bunch said ultimately made the difference.
"There were a couple of turnovers there that were key," O'Hanlon said. "And when we turned it over they got a layup on the other end."
Added senior forward Seth Hinrichs, who drilled three of six three-pointers and led Lafayette with 15 points and seven rebounds: "They're the 10th (ranked) team in the country and we competed for 30 minutes. I think we can be proud of that. But we would've liked to compete for the full 40." 
---
More news and notes from Kansas vs. Lafayette
---