Photo Gallery
Kansas basketball v. Lafayette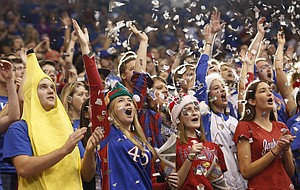 Images from Saturdays game between the Jayhawks and Leopards at Allen Fieldhouse
Podcast episode
Kansas University basketball coach Bill Self answers questions following his team's easy win over Lafayette. The coach discusses changes to two of the team's five starters for the game, as well as the standout performances of Kelly Oubre Jr. and Hunter Mickelson.
Podcast episode
Kansas University basketball players Kelly Oubre Jr., Frank Mason III and Hunter Mickelson meet with media members after contributing to a blowout victory agains Lafayette on Saturday at Allen Fieldhouse.
KANSAS 96, LAFAYETTE 69
Kansas University junior forward Perry Ellis didn't score the first half of Saturday's 96-69 win over Lafayette, and finished with four points and three boards in 14 minutes.
"I don't think he felt well today," KU coach Bill Self said. "I thought Jamari (Traylor, 11 points, seven boards) played well, gave us great energy. He, Kelly (Oubre Jr.) and Hunter (Mickelson) get 15 offensive rebounds, just those three. We need Perry to score. In games where it's a struggle to score, we've got to have somebody to throw it to. Perry will be that guy."
Ellis said: "I don't have the flu. I didn't have much energy this game. I got tired fast. I have to make sure I get more fluids and get ready for the next game."
Manning has two assists: KU junior point guard Evan Manning had two assists in six minutes. He may be used more in coming games following the recent injury to Devonté Graham.
"The whole week before this, we were all preparing to beat Lafayette and if Devonté wasn't hurt, it would've still been the same preparation process. It was a little different this week, obviously, because I had to play some with the blue team, which was different, but it was still just basketball," Manning said of practice.
Svi on fire: KU freshman Svi Mykhailiuk hit three straight threes the first half and had 11 points at the break. He was 0-3 the final half.
"He and B.G. (Greene, three points, six minutes) are great shooters. We've seen Brannen do it, but haven't seen Svi do it yet," Self said. "It was great to see the ball go in the hole. He didn't score in the second half. He made some good moves in there, just didn't finish. At least he was aggressive, which I think is really good."
This, that: Kansas City Royals pitcher Jeremy Guthrie attended and was introduced to the crowd wearing all KU gear. ... KU's eight-game win streak is its longest since an 18-game streak during the 2012-13 season. ... KU is 1-0 vs. Lafayette and 9-2 vs. the Patriot League. ... KU hit a season-high 12 threes. KU has hit 28 of 51 threes (54.9 percent) in three games. ... KU had season highs in points (96), field goals (38), field goal attempts (76), three-point field goals (12), three-point field goal attempts (23) and tied season-highs in points in a half (51), offensive rebounds (20), total rebounds (44), points in the paint (48) and assists (22). ... KU closed the first half with 14 baskets in 22 attempts. ... KU's five turnovers were its least since five turnovers against Towson on Nov. 11, 2011. ... KU's bench scored 40 points, the starters 56. ... Frank Mason III had a career-high nine assists. ... Traylor scored 11 points after 13 against Utah for his first back-to-back games in double figures.
---
More news and notes from Kansas vs. Lafayette
---