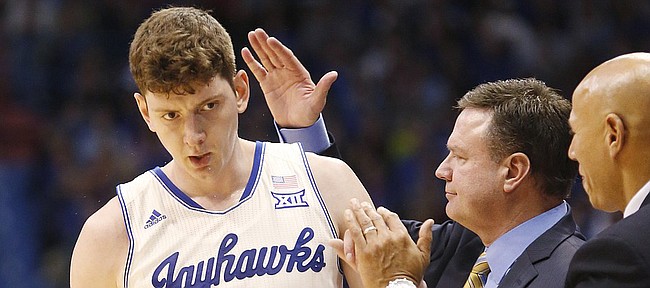 Photo Gallery
Kansas basketball v. Lafayette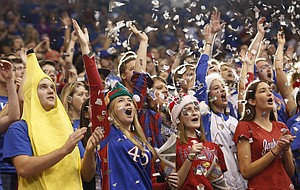 Images from Saturdays game between the Jayhawks and Leopards at Allen Fieldhouse
Podcast episode
Kansas University basketball coach Bill Self answers questions following his team's easy win over Lafayette. The coach discusses changes to two of the team's five starters for the game, as well as the standout performances of Kelly Oubre Jr. and Hunter Mickelson.
Podcast episode
Kansas University basketball players Kelly Oubre Jr., Frank Mason III and Hunter Mickelson meet with media members after contributing to a blowout victory agains Lafayette on Saturday at Allen Fieldhouse.
KANSAS 96, LAFAYETTE 69
One of Kansas University's best big men in practice the last 10 days has been a guy who, until Saturday, had played the least amount of minutes in games.
He's Arkansas transfer Hunter Mickelson, who after logging one minute in the last five contests and 14 minutes in five games all season, erupted for eight points, seven rebounds and two blocks in 17 minutes in Saturday's 96-69 rout of Lafayette in Allen Fieldhouse.
"Norm's been telling me every day, 'He's getting better. He's getting better. He's getting better,' and he has gotten better," KU coach Bill Self said of Mickelson, a 6-foot-10, 245-pound junior from Jonesboro, Arkansas.
Norm is big-man coach Norm Roberts, who monitors the progress of KU's bigs in drills every single day.
"Certainly he's going to play more or at least get an opportunity to play more. We're not going to play five big guys consistently, but we'll play four. He's earned the right to be one of the four, at least short term. It may switch who the four are each and every game," Self said.
Mickelson, who hit 4-of-7 shots Saturday — he clanged a one-handed dunk try that would have given him his first-double-digit outing at KU — scored a season-high six points in a season-best five minutes against Rider on Nov. 24. His career highs in points and rebounds at Arkansas were 16 and 13.
"Sometimes you get in a routine and you kind of stick with it unless somebody just hits you over the head. He's kind of hit us over the head the last week. He's been really good in practice. His attitude's been great," Self said of Mickelson. "He just needed an opportunity. He got out there and did well today. We were actually better with him in the game."
Of his string of strong practices, Mickelson said: "I just kind of had one of those weeks. I could feel everything going right."
He was tipped off he'd receive extensive minutes vs. Lafayette.
"Coach kind of said a little something to me before the game with everybody in the locker room: 'Just be ready,' and when my time comes, make the most of it," Mickelson said.
He said lack of playing time in the first nine games hadn't gotten him down.
"I kind of have been in my head a little bit, just thinking ... nothing bad," Mickelson said. "Kind of like Kelly said earlier, I've (also) been biding my time, whenever I get the chance make the most of it."
Freshman Kelly Oubre, Jr., who made his second start of the season Saturday — he was ticketed to come off the bench until Brannen Greene reported a half hour late for weights Friday — erupted for a career-high 23 points off 9-of-15 shooting (4-7 threes) and 10 rebounds in 25 minutes.
"Brannen missed weights. He basically handed Kelly a starting job. That's a good lesson for everybody," said Self, who noted Oubre also has been great in practice of late.
"He seems to me he's playing with more burst as opposed to just playing at one speed at a time," Self said. "He's kept a great attitude. He's played very well."
Oubre's season-high in minutes came after playing 17 against Utah (nine points) and 16 versus Georgetown (seven points).
"I look at it as it's part of the process. A lot of people say, 'enjoy the process,' that's what I've been doing," Oubre said. "It was a confidence booster, something to get me started, like a platform was built today. I'm going to keep doing the same thing I've been doing, being patient and enjoying the process," he added.
KU had six players finish as double-digit scorers. Frank Mason III had 14 points, Wayne Selden Jr., 12, Sviatoslav Mykhailiuk 11 (including three straight threes the first half), Jamari Traylor 11 and Cliff Alexander 10.
Mickelson scored four straight points the first half — an inside bucket and follow of a Mykhailiuk miss — to give KU a 32-17 lead at 5:21. In the second half, he hit a short jumper off a nifty spin move to up a 59-52 lead (11:40) to nine points at 11:09. That opened a back-breaking 24-5 run that assured KU of improving to 9-1 overall. Lafayette fell to 7-3.
"My conditioning was fine. We run up and down every day and go hard in practice," Mickelson said. "I don't think it was that much different. The lights get a little brighter when you are out there. I just had a good time. Like Kelly said, we're playing for each other. I was glad to be part of it. I'm just trying to give all I can for the team."
KU will next meet Temple at 6 p.m., Central time, Monday, at Wells Fargo Center in Philadelphia.
---
More news and notes from Kansas vs. Lafayette
---