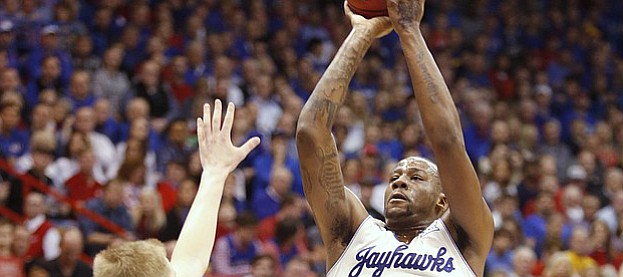 Photo Gallery
Kansas basketball v. Lafayette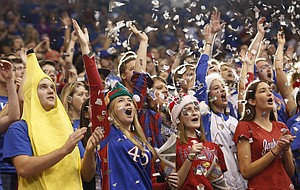 Images from Saturdays game between the Jayhawks and Leopards at Allen Fieldhouse
Podcast episode
Kansas University basketball coach Bill Self answers questions following his team's easy win over Lafayette. The coach discusses changes to two of the team's five starters for the game, as well as the standout performances of Kelly Oubre Jr. and Hunter Mickelson.
Podcast episode
Kansas University basketball players Kelly Oubre Jr., Frank Mason III and Hunter Mickelson meet with media members after contributing to a blowout victory agains Lafayette on Saturday at Allen Fieldhouse.
KANSAS 96, LAFAYETTE 69
Kansas University sophomore wing Brannen Greene, who was ticketed to start his second straight game on Saturday, missed the entire first half as penalty for arriving late for a weight-training session on Friday.
Greene's replacement in the opening lineup was Kelly Oubre, Jr., who erupted for a game-high 23 points in a 96-69 win over Lafayette.
"I'm not surprised at all. If you've had a son or daughter or anybody, maybe they are late to dinner, too. Maybe they got a late start and were late to school. It happens sometimes," coach Bill Self said.
"We had weights at 1 o'clock and he got there at 1:30, not the end of the earth. In the situation he was in, he came up to me and said, 'Coach, I screwed up.' He handled it well, not a big deal."
Meanwhile, freshman Cliff Alexander, who Self said on Friday would make his first start, came off the bench.
"Cliff just had a bad day (at practice) yesterday, a bad day," Self said.
Self said, partly because of this situation, he will never comment on his probable starters again.
"I think people around here care about that stuff, where most places they don't care from a media standpoint," Self said of probable starters in games. "You guys do here, which is fine. Certainly everything is magnified. I will tell you this. I learned a lesson. I'm not going to tell you guys who is starting so that way you'll never know. Obviously when we announced yesterday our starting five and you've got two guys not starting, that's what creates a problem. From this point forward you guys will never know who I'm starting.
"If I hadn't announced who our starters were, you guys would never know that stuff. I'm never going to tell you again. No big deal at all, no future punishment (for Greene over this incident) at all."
Greene had three points in six minutes the final half.
---
More news and notes from Kansas vs. Lafayette
---