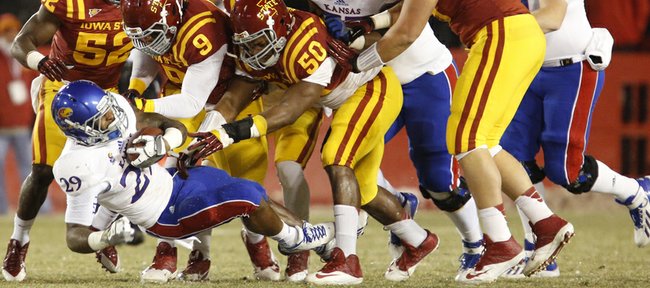 Photo Gallery
KU football v. Iowa State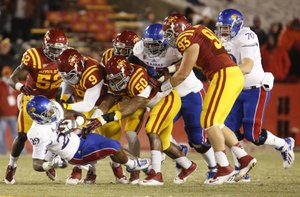 Images from Saturday night's game between the Jayhawks and Cyclones in Ames, Iowa.
Podcast episode
KU football coach Charlie Weis explains how the field impacted play in KU's 34-0 loss to Iowa State
Iowa State 34, Kansas 0
Ames, Iowa — Saturday night at frigid Jack Trice Stadium, Kansas University's football team went back in time.
Unfortunately for the Jayhawks, however, the DeLorean did not travel back quite far enough, and instead of evoking memories and hopes of the Kansas teams that reached back-to-back bowl games behind an exciting and mobile quarterback, the Jayhawks merely went back a few weeks and more closely resembled the team that, earlier this year, could not get anything going on offense and left its defense on the field way too long.
There were a half-dozen factors that could explain KU's 34-0 loss to one-win Iowa State. From cold temperatures and bad footing to unlucky breaks and missed opportunities, the Jayhawks who looked oh-so-good in an upset victory over West Virginia last week looked more like a team destined to start another long conference losing streak than one trying to start a rare winning streak.
"I'm as disappointed this week as I was excited last week," KU senior center Gavin Howard said. "This is one of the most disappointing losses I've had in my career here, and I honestly don't know how it happened."
It's not like this was a typical Big 12 juggernaut the Jayhawks were facing. Iowa State entered the game last in the Big 12 in scoring defense and second-to-last in the conference in scoring offense. Instead of becoming KU's second victim in a feel-good finish to another rough season, the Cyclones rose up and became the first team to pitch a shutout against the Jayhawks since Texas in 2011.
It's not like the Jayhawks were completely overmatched from start to finish. In fact, despite giving up big chunks of yards and failing to hit any big plays of their own, the Jayhawks (3-8 overall, 1-7 Big 12) did enough on defense in the first half to keep the game within reach. Five times KU moved into ISU territory. But five times, miscues or a frozen gas pedal turned the Jayhawks away without scoring.
"I was very frustrated that we were able to move the ball into plus territory but kept coming up empty," Weis said.
Iowa State, which racked up 178 yards on just 17 plays in the first quarter, failed to capitalize on its final three drives of the half, tossing an interception on one drive, going three-and-out on the next and running out of time on the last after intercepting freshman quarterback Montell Cozart in the end zone to end another potential Kansas scoring drive.
KU's offense in the first half looked completely different depending upon what plays were called. When Sims touched the ball, the Jayhawks' offensive line gashed the Cyclones up front and helped Sims rumble for 96 yards on 15 carries during the first two quarters. On nearly all of the other plays, however, Cozart either overthrew receivers or scrambled into and out of trouble but never did enough to damage the Cyclones defense by himself.
"We just couldn't finish," Howard said. "You gotta give them credit. They buckled down once we got to their side of the field."
On one first-half drive, a scrambling Cozart missed a sure touchdown by electing to follow his blocking to the right instead of cutting it back to the wide-open patch of turf to the left. On another, KU's drive stalled when Cozart nonchalantly ran out of bounds just short of the first-down sticks on third-and-nine after scurrying for positive yardage.
Weis challenged the spot, but the call on the field stood.
Weis said the challenge was merely an attempt to settle his team down, since he planned on going for it on fourth-and-one anyway.
"They were saying, 'Go for it, go for it, go for it,' which was probably pretty stupid at the time because it was a 10-0 game, and we could've gone into halftime with a 10-3 game," he said.
Instead of converting, ISU (2-9, 1-7) stuffed Sims (114 yards on 21 carries) up the middle, and KU never threatened again.
Iowa State held KU to a three-and-out on the opening drive of the third quarter and then threw up 17 straight points to turn a 10-0 game heading into the third into a 27-0 runaway heading into the fourth.
Weis played Cozart and former starter Jake Heaps at quarterback in the second half, but neither could get anything going. Not that either got much help.
"What'd we drop, six passes?" Weis asked. "We might have set a world record for most dropped passes in the shortest amount of time. When you don't make plays in the passing game at all and your runs are going to be direct runs rather than getting to the edge, you're in a heap of trouble, and that's what ended up happening.
"I'm not shocked. I'm very, very disappointed. There was no evidence in practice or in warm-ups that we were going to do anything but play very well, and we didn't."