Photo Gallery
KU football v. Iowa State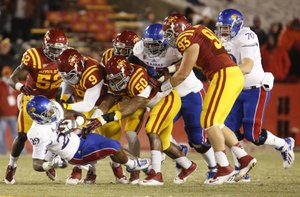 Images from Saturday night's game between the Jayhawks and Cyclones in Ames, Iowa.
Podcast episode
KU football coach Charlie Weis explains how the field impacted play in KU's 34-0 loss to Iowa State
Iowa State 34, Kansas 0
Game Balls
James Sims carried the ball 21 times for 114 yards. He had 15 carries and 96 yards in the first half, often turning no hole into a few yards by carrying a pile on his back. He also caught three passes for 17 yards.
Dexter McDonald leaned back and reached for the sky to make a terrific pick in the second quarter.
Gassers
Josh Ford missed the block that could have freed Christian Matthews for a first down on a fourth-and-four play run out of an empty backfield. Iowa State took over on downs and quickly broke scoreless tie with 58-yard touchdown pass midway through the first quarter.
Montell Cozart for stepping out of bounds one yard short of first-down marker instead of one yard past it, setting up fourth-and-1 that led to turn over on downs in second quarter. Cozart compoleted just 4 of 12 passes for 20 yards and an interception. On the rare occasions KU receivers sprung open, Cozart tended to overthrow them.