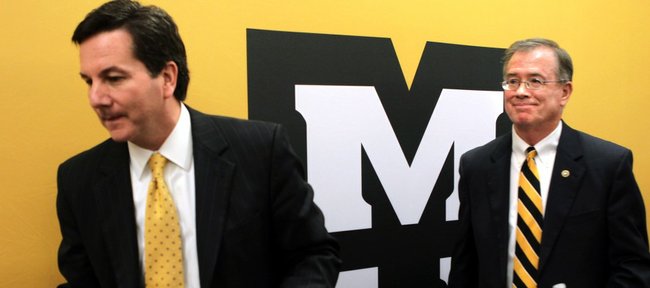 Bye-bye Big 12, hello SEC.
After weeks of private flirtations and the college sports' equivalent of prenuptial negotiations with their respective lawyers, Missouri and the Southeastern Conference took their mutual attraction public Sunday.
First the SEC released a statement welcoming Missouri as its newest member. Later there was a campus pep rally in Columbia, replete with a new SEC banner, the school's marching band and exploding confetti.
"We are pleased, and we are proud to welcome you to the family of the Southeastern Conference," SEC Commissioner Mike Slive told hundreds of students and alumni packed into the campus union. "We know that homecoming is a special tradition here at Missouri. So let me say to the entire Missouri nation, 'Welcome to your new home.'"
Missouri will join the league effective July 1, 2012 by unanimous agreement of the SEC's presidents and chancellors, including Bernie Machen of Florida, who joined Slive at Sunday's announcement in Columbia.
Missouri will be leaving the Big 12, a conference it has been a part of since 1907, including its days as the Big Eight and earlier incarnations such as the Big Six.
The school could also face the end of annual athletic contests with neighboring Big 12 survivor Kansas, a rivalry with roots in the Civil War. The teams first met on the football field in 1891, the sport's oldest traditional matchup west of the Mississippi River. Their college basketball battles also began in the 19th century.
The Big 12's uncertain future drove the move, said Missouri Chancellor Brady Deaton, who until last month was the conference's board chairman — and public face of the league's fight for survival after losing Nebraska (Big Ten) and Colorado (Pac-12) last year and later Texas A&M;, which will join Missouri next year in a 14-team SEC.
The announcement came as no surprise after Missouri's governing board gave Deaton the permission to change leagues in early October and then granted him broad authority two weeks later to negotiate directly with the SEC.
The delay was likely to due to concerns over the timing of Missouri's departure as well as the amount of the financial penalty the school must pay the Big 12 for breaking its contract.
A confidential report provided to The Associated Press suggested the school could owe the Big 12 as much as $26 million, though both Nebraska and Colorado negotiated significantly lower exit fees than what they were legally obligated to return. Deaton said Missouri and the Big 12 have not determined amounts.