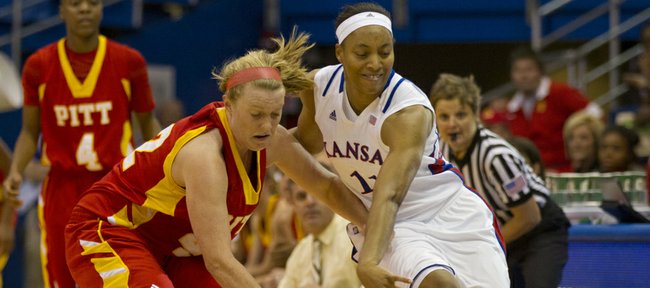 Kansas University's women's basketball team wasn't particularly interested in entertaining Allen Fieldhouse fans Sunday afternoon by playing a close game.
So a six-point lead for the home team in an exhibition against Pittsburg State wasn't sitting too well in the halftime locker room meeting.
Turns out that was inspiration enough for KU to come in the second half and set things straight. The Jayhawks picked up the pace post-halftime and rode that momentum to a 68-43 victory.
After hitting 13 shots in the first 20 minutes, Kansas opened the second half with eight baskets in the first five minutes. Obviously, that was a welcome sign of life for Jayhawks coach Bonnie Henrickson.
"I thought our sense of urgency coming out of the locker room with that first group was better than it was in the first half," she said.
Junior guard Monica Engelman, who scored a game-high 16 points, said finding a spark early in the second half was critical for the Jayhawks, who thought the game shouldn't have been so close at halftime.
Something had to change.
"Our coaches were talking about we get our offense from our defense," Engelman said. "If we're doing really well and we're getting stops and we're getting deflections and being able to run in transition, then the offense is gonna come a lot easier."
In the second half, the Jayhawks picked up their production immediately with an Engelman steal. She distributed the ball in transition to junior guard Angel Goodrich, who converted a difficult hanging layup over two PSU defenders to extend the KU lead to eight.
On the ensuing defensive possession for Kansas, junior forward Carolyn Davis snagged a rebound and got the ball ahead to Goodrich. The 5-foot-4 playmaker spotted senior forward Aishah Sutherland posting up on the left block in transition and fed her for an up-and-under bucket that gave KU its first double-digit lead.
Davis said the Jayhawks hadn't been pushing the ball and establishing tempo in the first half.
"Going into the locker room, we were really just frustrated with how we were playing. We weren't playing our game," she said.
The second half was a different story: "We played at our pace, and that's what helped us get the lead," Davis said.
Gorillas junior guard Drew Roberts hit a three-pointer to get PSU back within seven 1:16 into the second half, but Kansas countered with a 12-2 run in the next three-plus minutes.
It began with Engelman displaying terrific body control, catching a pass on the run, sweeping in from right wing, then altering her path to avoid contact for a layup that gave KU a 35-26 lead.
Said Henrickson: "In transition, she's pretty aggressive to the rim, and those are the kind of shots she got."
Pittsburg State freshman forward Lizzy Jeronimus drove in and scored over KU's starting forwards, Davis and Sutherland, with 17:30 to play. But Engelman answered with a smooth baseline jumper.
A few seconds later, the junior captain stole the ball from PSU and hit Davis as she ran down the middle of the floor for a layup. On KU's next possession, Engelman set up Davis again, this time by driving baseline and dishing to a wide-open Davis under the basket.
Goodrich showed soft touch, making a runner from the baseline the next time down the floor, and Davis capped the Jayhawks' 12-2 outburst by blocking a shot and running for a fast-break layup off a pass from Goodrich that gave Kansas a 45-28 advantage.
A catalyst throughout the win, Engelman (7-for-11 from the floor) gave credit to the rest of the Jayhawks for getting her open.
"My teammates did a good job of sucking in my defender," she said, "and then I'd have an uncontested shot, so it was easier for me."
Engelman scored 10 of her points in the first half, but that was one of the few things going right for KU before halftime. Henrickson lamented the Jayhawks' efforts in a number of areas.
"They (PSU) just ran it right up our throat and got loose balls and got rebounds and got kick-out threes," the coach said.
She was most disappointed in rebounding, where PSU held a 42-36 edge, leading to 16 second-chance points for the Gorillas. KU, meanwhile, scored just four on second chances.
Kansas was struggling so much early on that its preseason All-Big 12 forward, Davis, was getting denied inside by the Gorillas' front line.
"She got blocked twice," Henrickson said of Davis. "You don't' see that a whole lot."
The Jayhawks turned things around, though, in the second half on the backs of their starting returning players. Sutherland, Davis, Goodrich and Engelman combined to go 13-for-15 from the floor and score 26 of the team's 39 second-half points.
Engelman said they would have been very disappointed if the second half had been a repeat performance of the first.
"We were much more pleased. We created a gap," she said. "We stretched it out, so we can live with that."
At 2 p.m. Sunday, KU will begin its regular season by playing host to Western Michigan.