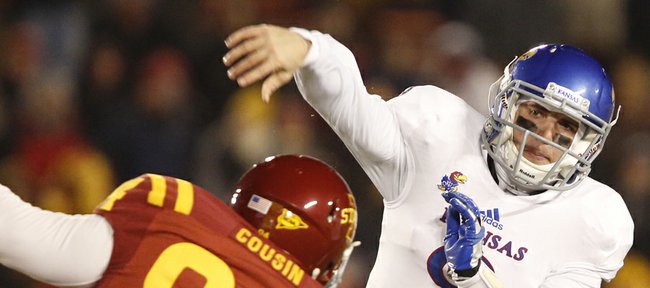 Photo Gallery
KU football v. Iowa State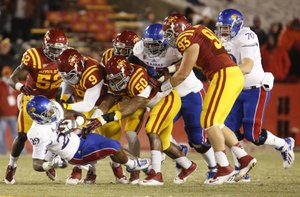 Images from Saturday night's game between the Jayhawks and Cyclones in Ames, Iowa.
Podcast episode
KU football coach Charlie Weis explains how the field impacted play in KU's 34-0 loss to Iowa State
Iowa State 34, Kansas 0
Ames, Iowa — He did not expect to play a single down and did not get many reps during last week's practices, but when he entered the game Jake Heaps was one of the most effective Jayhawks.
Unfortunately for Kansas University's junior quarterback who started the first nine games of the season, by the time he took over on Saturday night, the Jayhawks were too far behind in a 34-0 loss to Iowa State for it to matter.
Still, Heaps received a vote of confidence from his head coach following the game.
"I thought he was very, very accurate," said KU coach Charlie Weis of Heaps, who finished 7-of-19 passing for 72 yards in limited action. "To come in, it's zero (degrees) out, and he put the ball right on the money pretty much most of the night. I thought he was slinging the hell out of it tonight."
Whether it was freshman starter Montell Cozart overthrowing guys in the first half or Heaps hitting them in the hands in the second, KU's wide receivers struggled mightily once again. That turned the Jayhawks into a one-dimensional offense and that turned a competitive game into a runaway for ISU. Asked if a rough night like the one Cozart endured — 4-of-12 passing for 20 yards and 44 yards rushing on 12 carries — could hit the young quarterback harder because of his limited experience, Weis said he was not worried.
"I've been around the kid long enough," he said. "I don't think he's beaten down, it was just not a good performance. But he got a lot of help. There were a lot of other people who (played poorly with him)."
Cold? What cold?
With game-time temperatures starting in single digits and falling throughout the night, Saturday's loss was one of the coldest KU contests in years. That bothered some guys and did not impact others.
"It really wasn't that bad out there, temperature-wise," Weis said. "It was cold out there, but there was no wind. I really didn't feel the weather itself was a factor. I thought the field (condition) was a factor, and I thought Iowa State did a much better job of handling that than we did."
Added senior center Gavin Howard: "Nebraska a few years ago was pretty cold. But this was probably the coldest I've played in."
While different Jayhawks had different plans for how to prepare for the below-freezing temperatures, a trio of defensive players did the unthinkable during warm-ups — they went out there without their shirts on.
"I heard they went out beforehand and did that," Howard of Darius Willis, Dexter Linton and Michael Reynolds taking the bare-chested approach. "That's crazy. My stomach is hurting and I had clothes on."
Added junior cornerback JaCorey Shepherd: "On my way in, I saw them going out. I thought they were crazy at first. I'm not gonna say it was smart, but it's kind of a good idea to get used to the cold."
Sims makes history
KU senior James Sims' 114 yards on 21 carries gave him 1,028 for the season, which represents a new career high and makes him the first Jayhawk in school history to rush for 1,000 yards in back-to-back seasons. June Henley and Tony Sands, who rank first and second on KU's career-rushing list — ahead of Sims in third — both had multiple 1,000-yard seasons, but neither player did it in back-to-back years. Sims' triple-digit night marked the 15th of his career, which puts him two behind Sands for KU's all-time lead.
Road losing streak lives on
Saturday's game was KU's last chance this season to snap a 26-game losing streak away from Lawrence that dates back to 2009. KU will close out the 2013 season at 11 a.m. next Saturday at home against Kansas State and it's next opportunity to break the road losing streak will come Sept. 13, 2014 at Duke. KU's Big 12 road losing streak is now at 26 in a row and KU hasn't won a Big 12 road game since 2008.
This and that...
The Jayhawks won Saturday's opening coin toss for the sixth time this season and chose to defer their choice to the second half. Iowa State elected to receive the game's opening kickoff.... Kansas fell to 49-38-6 all-time against Iowa State and 22-22-3 all-time in Ames.... Junior linebacker Jake Love led KU with a career-high 13 tackles.... Temperature at kickoff was 8 degrees, under clear skies with calm winds.