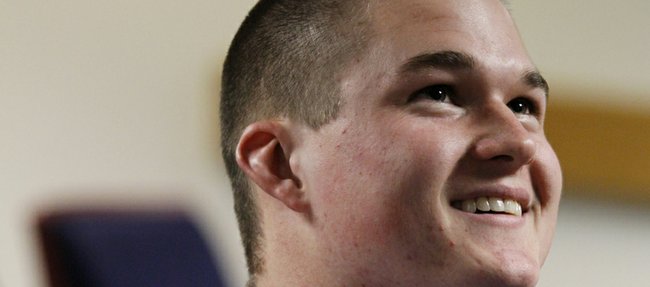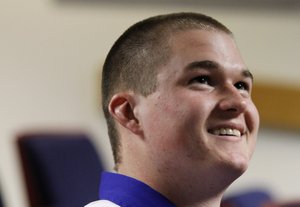 When Trevor Pardula was a sophomore in high school, he sat in the stands and watched his high school team struggle to kick the football.
Pardula, then a standout soccer player and now Kansas University's top option as a punter and kickoff specialist, remembered thinking to himself, "I can do better than that."
Not long after the thought first began bouncing around his brain, Pardula and his high school coach had a meeting of the minds.
"He didn't actually ask me," Pardula recalled. "I was actually planning on playing. But during the football games the year before, I was watching everyone kick, and I was like, 'I could go down there right now and do better than this.' So, it was just like, 'Why not?'"
Because he spent last season booming punts and thumping touchbacks, Pardula did not see many KU games. Had he been able to watch the Jayhawks' kicking game in 2012, Pardula may have encountered a feeling of déjà vu, with his mind racing back to those thoughts he had as a sophomore in high school.
As it stands, the lone kicker added to the team via scholarship this offseason is getting a great opportunity to showcase his skills this spring.
"It's been fun so far," Pardula said this spring. "I'm kicking the ball well. Obviously, I can get a lot more consistent. Consistently is like the most important thing for a kicker."
Consistency may be the key for the players, but cannon fire goes a long way with the coaches. During one spring practice, with the wind slamming into his face out of the south, Pardula got hold of one and watched it slice through the air like an arrow through water. Positioned behind him for the big bomb was KU coach Charlie Weis, who let out a spontaneous yell of "Wooo hoo hoo hooo" as the ball soared through the air.
Pardula heard him.
"Obviously, that's a good feeling," the junior-college transfer from De Anza College said with a smile. "You want to make him happy. You want to make everyone happy, and when you get a reaction like, that it feels good."
It's not every year that scholarships are awarded to kickers. But Pardula earned one this year because the Jayhawks needed an instant upgrade in the kicking game. The San Jose, Calif., native said the coaching staff talked to him about handling all three duties — punt, kickoff and field goals — but emphasized that he was needed most on the punt and kickoff teams. Pardula said he would be open to handling all three duties and that he was focused on competing for all three spots.
"Anything I can do to help, I'm all for," he said. "If (handling all three) is in the best interest of the team, then, yeah. I did it last year, so … "