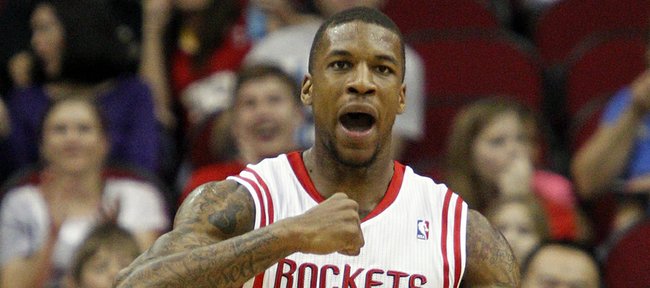 Former Kansas University All-America power forward Thomas Robinson will be playing for his third NBA team during the 2013-14 season.
The Houston Rockets, who acquired Robinson from the Sacramento Kings via trade during Robinson's rookie campaign, have agreed to ship the 6-foot-10 forward to the Portland Trail Blazers in exchange for two second-round draft picks and the rights to Kostas Papanikolau and Marko Todorovic, it was reported by Yahoo Sports and several other media outlets Sunday.
The Rockets now have the salary-cap space available to sign Los Angeles Lakers center Dwight Howard, who is a free agent. USA Today reports that the Rockets will offer Howard a four-year, $88 million contract.
The Robinson deal, which will slice nearly $7 million off the Rockets' payroll over the next two seasons, won't become official until the NBA's moratorium on free-agency signings ends July 10. Houston also waived Carlos Delfino and Aaron Brooks on Sunday.
Robinson — he will make $3.5 million next season — averaged 4.8 points and 4.5 rebounds in 70 games as a backup in 2012-13. He joins former KU center Jeff Withey in Portland. Seven-footer Withey was a second-round pick of Portland in Thursday's NBA Draft.
The Oregonian's Joe Freeman writes that, "The Blazers were more than willing to facilitate the cap-saving move for Houston because they are in desperate need for frontcourt help. All-Star LaMarcus Aldridge is the only proven power forward on the roster. With his addition, the Blazers have three of the top 11 picks in the 2012 NBA draft: Robinson, point guard Damian Lillard (No. 6) and center Meyers Leonard (11)."
Freeman on Sunday wrote that the "Blazers were ecstatic about landing Kansas 7-footer Jeff Withey in the second round of the draft. One team source labeled Withey a 'steal,' revealing that the Blazers already have turned down two trade offers since draft night for the agile, shot-blocking specialist who is coveted by NBA analytics gurus."