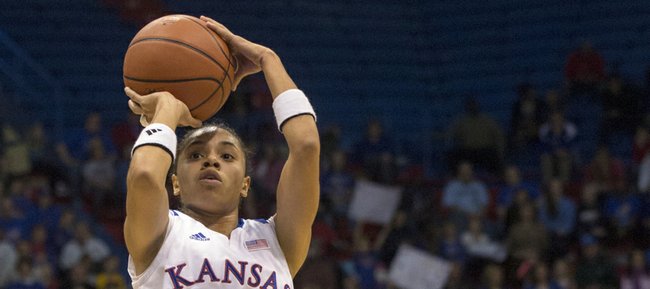 When Kansas University senior point guard Angel Goodrich takes the floor today for the Jayhawks' 7 p.m. home match-up with Texas, she'll do so needing just four points to join the 1,000-point club and fresh off of being named one of 20 midseason finalists for the annual Wooden Award.
But even as those types of honors keep rolling in for Goodrich, the only thing on her mind is snapping KU's three-game losing streak.
"I just want to play my game and do whatever I need to do for us to get a win," she said. "We definitely need one."
Asked to step away from her preparation for the Longhorns (7-10 overall, 0-6 Big 12) to share what such honors mean to her, Goodrich was happy to oblige, but still chose to deflect the credit to others.
"It means a lot," she said. "It's something that players work for and work toward, but I've gotta give thanks to my teammates because without them I wouldn't be where I am now. They make me better every day."
Goodrich, a 5-foot-4 magician from Tahlequah, Okla., said she never knew growing up that titles such as 1,000-point scorer at Kansas and Wooden Award finalist were in her future. But ...
"I did want to be someone great," she said. "That's what I always worked for."
That's exactly what Goodrich has been since arriving at Kansas, where she owns multiple school records and is on pace to eclipse even more.
"I have made sure that I've never taken what she does for granted," KU coach Bonnie Henrickson said. "I knew she would be a difference-maker. When you say kids have 'it,' she has 'it.' Off the floor and on the floor."
Goodrich has had the Longhorns' number during her last two meetings with Texas. During KU's 24-point victory at Allen Fieldhouse last season, Goodrich set a building record with 16 assists. She also added 16 points and three steals.
Unfortunately for Goodrich and the Jayhawks (11-5, 2-3), things have not come that easily during their past few conference games. After racing to a 2-0 start in Big 12 play, the Jayhawks have been roughed up in their past three conference outings and both Goodrich and Henrickson said there was a common denominator in each loss.
"We've kind of been starting out slow, and in this league you can't do that," Goodrich said. "You have to play hard from the tip to the buzzer."
Added Henrickson: "I'd like to think that from a toughness and an energy standpoint, we would play every night with what we'll bring (tonight). Whether you're home or away, the last thing you want to do is let your opponent get off to a start where they feel comfortable."
Texas is one of the top rebounding teams in the Big 12, and Henrickson said that would be another major key tonight.
"Their effort and intensity to go rebound might be as good as anybody in our league, one through five," she said. "Everybody rebounds for them. It'll be a physical, fast game. They're big and long and athletic, and they can do a lot of things on both ends of the floor."