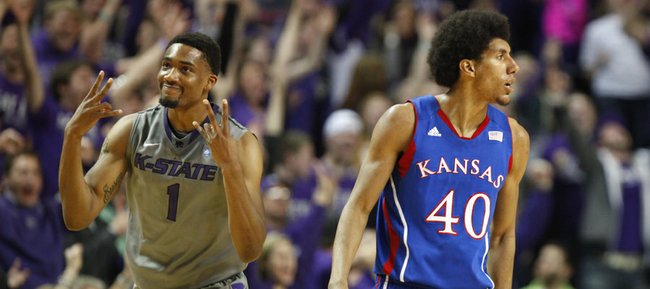 Photo Gallery
KU basketball v. Kansas State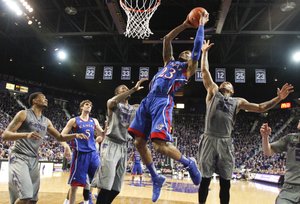 Images from Tuesday night's game against Kansas State in Manhattan.
Podcast episode
Kansas coach Bill Self talks after the Jayhawks' 59-55 victory over Kansas State on Jan. 22, 2013.
Podcast episode
Kansas seniors Travis Releford and Jeff Withey talk to reporters following the Jayhawks' 59-55 victory over Kansas State on Jan. 22, 2013.
Podcast episode
Kansas State coach Bruce Weber and guard Rodney McGruder talk after the Wildcats' 59-55 loss to Kansas on Jan. 22, 2013.
Manhattan — The 30 three-pointers attempted were not a fluke.
Kansas State's offensive strategy coming into Tuesday's men's basketball game was to avoid Kansas University shot-blocker Jeff Withey by trying to shoot open shots on the outside.
It nearly worked in the Wildcats' 59-55 loss to the Jayhawks.
"It's something they give you," KSU coach Bruce Weber said. "That is why Iowa State had a chance to beat them at their place. You've just got to hit the open (threes), then you'd make them defend you a little bit different. But we didn't do that."
Weber said his coaches have a saying: "Closer is not better. Open is better."
The Wildcats — a 35-percent three-point shooting team coming in — made nine of 30 three-pointers (30 percent), getting 49 percent of their points from behind the arc. They also held Withey without a block for the first time this year.
"(Coaches) told us that they were going to be packed in, and they get not really lost on defense when you drive them, but they sink into the ball because they're a great defensive team, and they're so athletic that they swarm," said KSU junior forward Shane Southwell, who hit five of 11 treys. "Out of our 30 three-point shots, I felt like 20 of them were open shots or shots that we usually make."
KU coach Bill Self admitted afterward that his defensive strategy was to try to keep KSU out of the lane.
The Wildcats certainly noticed, countering by taking 53 percent of their field goals from three-point range (30 of 57).
"They weren't coming out," KSU sophomore guard Angel Rodriguez said. "I think pretty much their game plan was to just let us shoot threes. I feel like everybody was in the paint. I guess (we needed) to just make shots."
This isn't the first time opponents have tried to beat KU's tough interior defense from the outside.
Coming into the game, according to Ken Pomeroy's website, 34.5 percent of the points scored against KU's defense had come from three-point range — the 11th-highest split nationally.
Iowa State scored the most points per possession against KU — 1.10 — when it made 14 of 38 threes in a 97-89 overtime loss on Jan. 9.
With its season-high 30 three-point attempts Tuesday, KSU put up 0.93 points per possession according to StatSheet.com, the fifth-highest total against KU's defense this year.
Weber was asked about KU's grind-it-out victories in the Big 12 following a dominant nonconference stretch.
"If you study basketball … to beat Belmont, Colorado and Richmond — those are good teams — and they were not just beating them, they were killing them, destroying them," Weber said. "I think all of us in the league were like, 'Oh my goodness.' I think you guys and people around the state are like, 'There's no way you can compete with them.'
"I think they got into the league ... people scout. They know things that you can do to attack them. People take care of the basketball better. I think that's a big key against them."