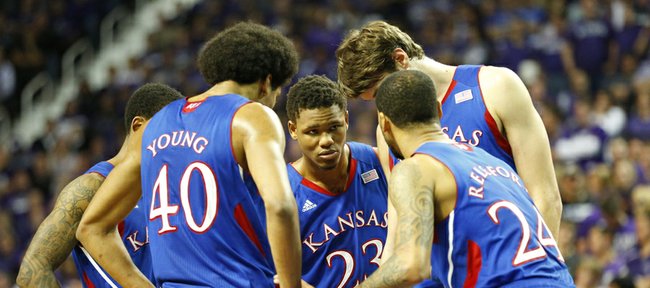 Photo Gallery
KU basketball v. Kansas State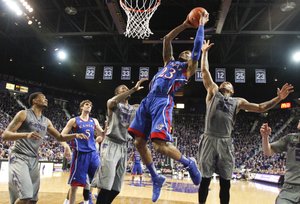 Images from Tuesday night's game against Kansas State in Manhattan.
Podcast episode
Kansas coach Bill Self talks after the Jayhawks' 59-55 victory over Kansas State on Jan. 22, 2013.
Podcast episode
Kansas seniors Travis Releford and Jeff Withey talk to reporters following the Jayhawks' 59-55 victory over Kansas State on Jan. 22, 2013.
Podcast episode
Kansas State coach Bruce Weber and guard Rodney McGruder talk after the Wildcats' 59-55 loss to Kansas on Jan. 22, 2013.
Manhattan — Freshman forward Perry Ellis early and sophomore guard Naadir Tharpe late, fueled by ever growing confidence, helped Kansas University to grit out its 16th consecutive men's basketball victory, 59-55, Tuesday night in Bramlage Coliseum against Kansas State.
The more good things that happen for them in games, the stronger the KU bench becomes.
But on a night he watched from the bench in foul trouble and too often from the perimeter when in the game, red-shirt freshman Ben McLemore again showed he's the player on the roster with the most untapped potential.
From today until mid-March, McLemore's the player who figures to improve the most, and when that happens, that's when we'll see how tough this veteran team that starts four seniors can become.
When McLemore involves himself in the action, especially close to the hoop, he does things nobody else can do. He had two flashes of brilliance, both in the second half of a game in which he was not a first-half factor (two points), thanks in part to foul trouble and to K-State senior Rodney McGruder's strong defense.
The first two blink-and-you-missed-them contributions came in a 14-second span, both on the defensive end.
Kansas State's crafty 6-foot-7, 270-pound sophomore center, Thomas Gipson, used multiple pump fakes to draw Jeff Withey's third foul. Gipson's three-point play not only sent Withey to the bench with 15:07 left, it cut K-State's deficit to five points.
Gipson had the ball down low on his team's next possession and dialed up his bread-and-butter move again. This time, when Gipson went to the pump fake, McLemore ripped the ball right out of his hands, not an easy play to execute without fouling, especially against such a strong athlete.
Just 14 seconds later, Gipson tried to score again, and McLemore blocked his shot.
McLemore supplied that sort of defensive help and also held his primary assignment, Will Spradling, scoreless.
For having such a quiet night (11 points, 4-of-7 field goals), McLemore timed his big plays well, most coming when the Wildcats drew within five points.
Again proving that good things tend to happen when McLemore moves closer to basket, he gave Kansas a seven-point lead with 9:51 left, scoring on an offensive rebound off a Withey miss.
McLemore's three-pointer with 7:40 extended KU's lead to eight points, and his jumper 44 seconds later gave Kansas a 10-point cushion.
Kansas State coach Bruce Weber was talking about Kansas in general, no player in particular, but his words just as easily could have applied to McLemore's second-half flurries when he said, "They make plays. They don't get rattled. On both ends of the court, they make plays and find ways to win."
Once the conference season hits, scouting reports on how to defend freshmen are out, and those players need to figure out to counter the way they're guarded. The book on McLemore says to play him tight and make him put the ball on the floor. That can frustrate him and in fact led to the second foul called on him Tuesday. But McLemore is so focused on improving, such a talented athlete and such a skilled basketball player, there is reason to believe he'll make opponents pay for guarding him that way, and the book will have to change.
He wasn't KU's best player on this night. Travis Releford was, but McLemore with a couple of spurts showed why he was the best basketball prospect on the floor. He was good enough to make key plays in another tight Kansas victory. He'll be a lot better than that when college basketball takes center stage in the sports world come mid-March.
Kansas was just good enough to stay unbeaten in the Big 12 and is alone in first place. It's easy to see where it will be a lot better than that in couple of months.