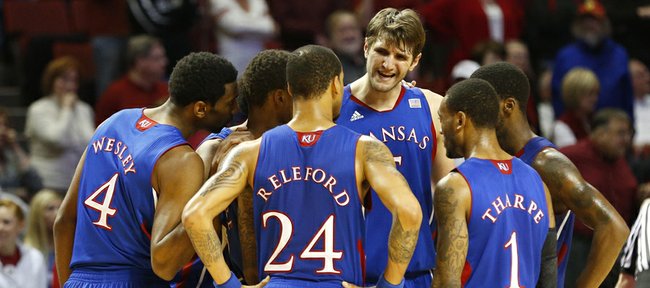 Photo Gallery
Kansas basketball v. Oklahoma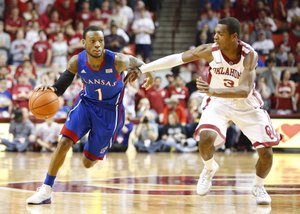 Images from Saturday's game against Oklahoma in Norman, Oklahoma.
Podcast episode
Kansas coach Bill Self talks after his team's 72-66 loss to Oklahoma on Feb. 9, 2013.
Norman, Okla. — A reeling basketball team ranked No. 2 in the nation just two weeks ago didn't climb all the way out of the abyss Saturday in the Noble Center, but it did scale high enough to see traces of its former image in the mirror.
Kansas didn't perform like a No. 2 team it was or even up to the No. 5 ranking it carried into the week, but in a 72-66 loss to Oklahoma in the Noble Center, the Jayhawks looked a lot closer to those versions of themselves than to the shell-shocked bunch that lost three days earlier to last-place TCU in Fort Worth.
That's not moral-victory talk — a language Kansas never learned — it's reality.
KU didn't shoot well (five of 15 three-pointers, 11 of 20 free throws) in stretching its losing streak to three games, and foul trouble exposed the team's lack of front-court depth, but that lost look, that sluggish play didn't make the trip to Norman.
Elijah Johnson's struggle to get his shots to drop continued, but his postgame words and presence hit the mark.
Win or lose, terrific personal performances or terrible ones, Tyshawn Taylor never ducked his role as one of the team's spokesmen during his senior year, a mark of leadership. Johnson hasn't always been available to talk. He talked Saturday, took all the questions head on, and sounded a no-pouting policy he said he will enforce with teammates.
"I think it's time to get closer, personally, as the captain, rather than pouting up," Johnson said. "That's the message I'm going to try to get out to my team. It's so easy to pout right now. So easy. Nobody cares. They want results and that's what I'm going to stress to the team, no time to pout up."
Smart approach. It's not as if hitting the intended target becomes easier when a shooter has a hunk of shame stuck in his eye. It becomes more difficult.
There is no reason for Johnson or anybody else to view Saturday's loss in the same way as the Horned Frogs' debacle that led to a players-only meeting. Johnson took exception to the view that because Kansas lost, the meeting was not productive.
"Who said that it didn't help us?" Johnson said. "I think it did change because we looked different tonight than we did at TCU and we looked different tonight than we did at the end of Oklahoma State."
Johnson's intent on pointing to the sky to make sure everybody is aware it's not falling, even if his shots aren't either.
"With the adversity and everybody saying what they're saying about us, with me being a team leader, I'm going to keep my head up regardless of whether the people love or hate me," Johnson said. "I'm going to keep my head up, and I think right now that's what I'm showing them (younger teammates) and they're starting to realize it can turn real quick and you've got to take what you want and not just expect it to be handed to you."
Asked to put his finger on exactly why this team slipped so far so quickly, Johnson didn't claim to have the answer.
"Right now we're trying to figure that out," Johnson said. "You can't ask a man who just got knocked out to count to 10. You can't think straight right away. There's so much going on in your head. Right now we're just focused on getting our focus back. That's what we're focused on, getting our focus back."
The Sooners had too many open jumpers and didn't run into as much resistance in the paint as when Kansas is at its best defensively.
"You could say that to our standards, yeah, I think they probably got too many open shots," Johnson said. "But when a team is feeling the juice, they seem to get themselves open easier when they're confident like that, so it wasn't a big surprise. If you're making shots, you're not going to let somebody keep you from getting open."
Monday's Allen Fieldhouse crowd can help Kansas recover said juice, but it only will return if the team answers the crowd's roar with one of its own against Kansas State, suddenly standing alone atop the Big 12 conference standings.