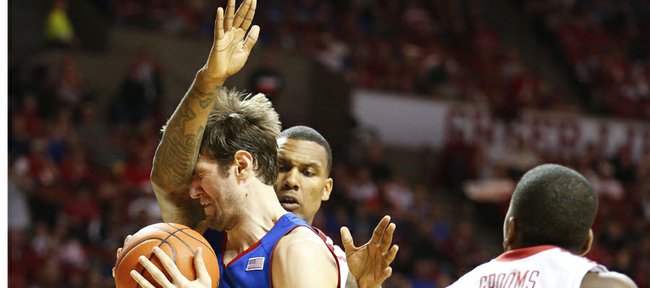 Photo Gallery
Kansas basketball v. Oklahoma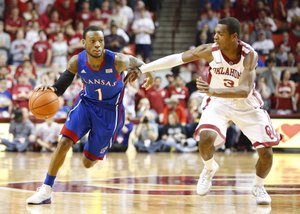 Images from Saturday's game against Oklahoma in Norman, Oklahoma.
Podcast episode
Kansas coach Bill Self talks after his team's 72-66 loss to Oklahoma on Feb. 9, 2013.
Add Cole Aldrich and Eric Chenowith to the list of former Kansas University big men offering congratulations to Jeff Withey for claiming the school's all-time record for blocked shots.
Withey had one block in KU's 72-66 loss to Oklahoma on Saturday in Noble Center, moving into a tie with Greg Ostertag as No. 1 human eraser in school history. Ostertag and Withey have 258 blocks; Aldrich 253.
The record-tying block came off a driving layup try by Andrew Fitzgerald at the 19:13 mark of the second half.
"I am so proud to have played for such a great school and loyal fans. It is with great pride that I congratulate Jeff on breaking the all-time block record," Aldrich of the Houston Rockets wrote in an e-mail to the Journal-World.
"Jeff is a great guy and has been working so hard improving his game every day. Past and present players always hope to fill their chair with someone they can continue to watch and be proud of. Jeff has made it easy for me to do that," Aldrich added. "I am so proud of all that the current team has done this season and am excited to continue watching their successes. I know I can count on our fans to cheer them on along the way. Let's raise another banner in the fieldhouse!" added Aldrich, who played at KU from 2008 to '10.
Chenowith, the No. 5 shot blocker in KU history, had 242 blocks from 1998 to 2001.
"It's a testament to his hard work, the coaching staff working with him, everything. I've met him a couple times coming back for games," Chenowith, a 7-footer from Villa Park, Calif., said of San Diego native Withey. "I've always pulled for him, being a Southern California kid. We always kind of pull for each other."
Like Ostertag and Scot Pollard, who have gushed about Withey's defensive prowess in interviews with the Journal-World the past couple weeks during Withey's pursuit of the record, Chenowith loves Withey's form.
"Jeff does a great job of keeping the ball in play," Chenowith said. "Sometimes if a little point guard is driving down the lane, you want to make the point and swat it out of bounds. For the most part, you are trying to get the ball back.
"Bill Walton, it's kind of funny, always told me to try to block it to a teammate and get the ball. No. 1, it's great to give your team the ball and No. 2, it's good to pad your rebound stats. You get a block/ rebound," Chenowith added, laughing.
Chenowith currently works for Parq Advisors in Beverly Hills, Calif., specializing in providing disability insurance policies to pro/college athletes and entertainers. He'd worked as an assistant coach at Villa Park High School for several years.
"Guys in the NBA in a contract year, if anything happens to them they are taken care of. Musicians ... you put them in disability in the event something catastrophic happens and they can't perform anymore. They are taken care of as well," Chenowith explained of benefits of getting disability insurance. "It (job) is something good for me. I can stay in Southern California and do this forever. I won't have to move around taking coaching jobs here and there."
Back to the bottom line on Withey's accomplishment. "I'm proud of him. I'm happy for him," Chenowith said. "He's worked very hard. There were doubts about him when he came over from Arizona. He proved all the doubters wrong, which is great. As far as breaking the record ... it shows progression in Kansas basketball. If guys continue to break records it shows things are not at a standstill. It's good for Kansas basketball. I like to see records broken, personally."
Chris Mihm is the Big 12's all-time shot block leader with 264 from 1998 to 2000.
43 more for Frankamp: Future KU guard Conner Frankamp scored 43 points in Wichita North's 67-61 win over Wichita Kapaun on Friday. North improved to 14-2 overall and 11-1 in the City League. Frankamp hit eight free throws over the final two minutes to assure victory.
• Coach Bill Self is not panicking with KU a game behind KSU in the Big 12 standings.
"We've been behind a game in the league race going into the last seven-eight games of the season before," Self said. "We were never quite as good as our record, but we are better than what we have played here this past week. Does it surprise me we are in a dogfight? Not at all. This talk people had that the whole deal is who is going to finish second? I never had that feeling at all. We are going to have to play our best ball to have a chance to win it. Every game is lose-able on the road especially when you have Baylor, Oklahoma State and Iowa State left."
• Elijah Johnson was asked if KU relaxed as a team. "No," he said. "I think we took a little more time off than we should have. They set it up some steps for us to step backward and we didn't realize it. I don't think we relaxed much but we definitely relaxed a little.
Stats, facts: Oklahoma announced a sold-out crowd of 13,490 and estimated an actual attendance at 10,503, the most for the Sooners since playing the Bedlam game (12,695) against Oklahoma State to open Big 12 play Jan. 12. ... Ben McLemore led Kansas in scoring for the 12th time with 15 points. It also marked the 22nd time in 23 games that McLemore has reached double figures in scoring. ...Elijah Johnson scored 10 points, his ninth game this season in double figures. ... Kevin Young returned to the starting lineup after coming off the bench for the first time against TCU. He grabbed an offensive rebound and scored KU's first points on a put-back dunk in the first minute. Young had two put-back dunks in the first half and scored six points before running into foul trouble in the opening minutes of the second half. He finished the game with eight points before fouling out with 57 seconds left. ... Freshman Jamari Traylor was the first player off the bench for Kansas and scored a basket for the second consecutive game.