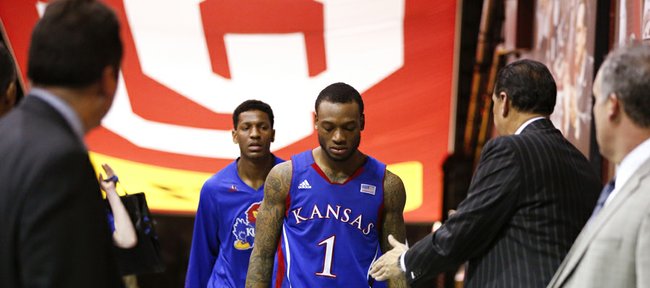 Photo Gallery
Kansas basketball v. Oklahoma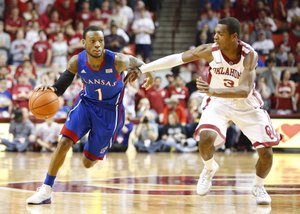 Images from Saturday's game against Oklahoma in Norman, Oklahoma.
Podcast episode
Kansas coach Bill Self talks after his team's 72-66 loss to Oklahoma on Feb. 9, 2013.
Norman, Okla. — Not in the best mood after his Kansas University basketball team's third loss in the past eight days, Bill Self nonetheless smiled when asked how his team's current losing streak compares to the last three-bagger — back in 2004-05.
"I can't remember what happened last week let alone what happened in 2005. That may have been when we were all freshmen," Self recalled on Saturday after the Jayhawks' 72-66 loss to Oklahoma in Noble Center.
The loss, coupled with a home setback to Oklahoma State on Feb. 2 and road defeat at TCU Wednesday, gave (19-4, 7-3) KU three straight defeats for the first time since losses to Texas Tech, Iowa State and Oklahoma from Feb. 14-21, 2005.
That was when Wayne Simien, Keith Langford and Aaron Miles were seniors.
"We hadn't lost two in a row since 2006. Obviously three in a row is not good," Self said. "This game today ... I am not leaving here disgusted with my team at all. It's the same result on the scoreboard, but it was a much better performance today. Fans can think what they want to. This was not a major upset today," he added after falling to the (15-7, 6-4) Sooners.
"The upsets were losing at home (to OSU) and at TCU. This was going to be a coin-flip game no matter what, especially catching an OU team that shot well."
The Sooners, in fact, hit 55.6 percent of their shots the first half in building a 38-34 halftime lead. By game's end, the percent mark had dipped to 44.8. However, the Sooners hit some huge long-range bombs when it counted down the stretch.
"They hit shots today. It was frustrating but what can you do? They made shots. That's about it," senior center Jeff Withey said after scoring 14 points and grabbing six rebounds.
KU, which trailed by nine, 57-48, with 9:21 minutes to play, rallied to within one point thanks in part to a triangle-and-two defense, 57-56, with 4:59 left. That's when Amath M'Baye (eight points, 2-4 from three) stroked a three to give the Sooners a four-point advantage at 4:41.
With the score 60-59 (Travis Releford missed a back end of a one-and-one that could have tied the score at 4:12), Steven Pledger (15 points, 6-14 shooting) stroked a three to up the margin to four again at 3:51.
Next, with the score 63-61 following a Withey basket at 1:37, Je'lon Hornbeak (seven points) stroked a three to make it 66-61 at 1:21.
KU did get it within two (68-66) at :15.7, but Hornbeak hit two free throws to put it away.
"Our triangle-and-two was pretty good late. It got us back in it and gave us a chance," Self said. "Hornbeak made a huge shot. We had a chance in traps to get a couple deflections. A lot of close things today didn't go our way. It was a better effort. Our guys will leave here not feeling good but better than the last two games."
One negative on Saturday was free throw shooting. The Jayhawks, who hit 46.3 percent of their floor shots and five of 15 threes, made 11 of 20 free throws to OU's 13 of 16.
"You don't make your free throws on the road ... that was as big a reason we didn't win the game as any," Self said.
Ben McLemore led the Jayhawks with 15 points and Elijah Johnson had 10 points. Releford nearly had a double-double with eight points and nine rebounds, but missed three of four free throws as OU snapped a 10-game losing streak versus KU and four-game losing streak in Noble.
The loss moved KU into a tie for second place with (7-3) Oklahoma State heading into Monday's 8 p.m. game against first-place Kansas State (8-2) in Allen Fieldhouse.
"From a team standpoint, I hope the guys leave here down but not so down to the point where it's broken," Self said. "It'd definitely not good, but it's not broken.
"We need our fans," Self added. "I am not one to beg very often. I am not begging now. Our team has been stung a little bit — 19-4 isn't the worst record we've ever had at this stage. We've had a great year. We've had a crappy week, but we can still get it back. If we win Monday we'll be tied for the league lead. If not we'll be looking up and put ourselves in position it'll be very hard to catch up."
The bottom line ... " I hate to say this but there's a lot of teams in the country who have lost two or three in a row and a lot of teams in the country struggle away from home," Self said. "We didn't make enough plays to win, but we competed hard. Give OU credit. They controlled the game from the start."