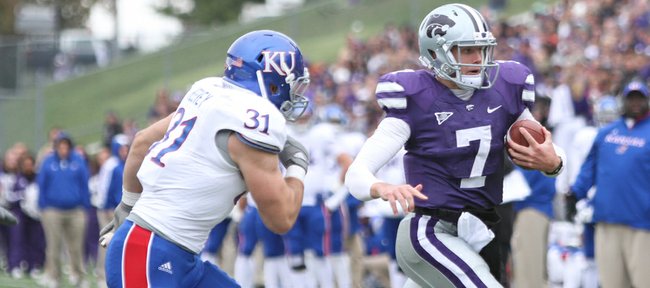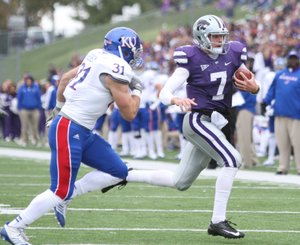 When a team gives up 475 yards, eight touchdowns and 56 points to its in-state rival, it can be pretty tough to find positive things to point to on the defensive side of the field.
But even in the wake of Saturday's 56-16 loss at Kansas State, that task was a piece of cake for Kansas University coach Charlie Weis. That's thanks to sophomore linebacker Ben Heeney, who led the Jayhawks with 14 tackles and is tied for sixth in the Big 12 with 41 stops. That number and his 3.5 tackles-for-loss lead KU's defense.
"His mentality is really what you're looking for," Weis said of Heeney, who has started every game at middle linebacker for the Jayhawks (1-4). "He's far from perfect, but his mentality is what you're looking for. If you had a bunch of guys that had his mentality, you'd be way further along."
It wasn't so much the number Heeney finished with that impressed Weis as it was the way his tackles came. Whether it was in the first half or the disappointing final minutes, Heeney was the same player, sprinting to the ball and slamming opponents to the ground.
"It doesn't surprise me, the production that Ben Heeney has," Weis said. "Because one of the guys running full speed on every play from sideline to sideline, throwing his body around like a missile, is Ben Heeney. I'm not saying there aren't other players playing hard, but he plays the game different than a lot of people do."
Never was that more evident than on Heeney's stop of K-State quarterback Collin Klein right before halftime. With 16 seconds to play in the half and the Wildcats sitting at the KU five-yard line with no timeouts, Klein took the snap, lunged forward and stretched the play outside to his left, racing against the clock and the KU defense to get to the end zone to give KSU a 28-14 halftime lead.
He never got there, though, as Heeney kept pace with the elusive KSU quarterback and wrestled him down, in bounds, at the one-yard line. The stop allowed time to run out on the half and sent the Jayhawks sprinting to the locker room with serious momentum.
"It didn't turn out this way," Weis said. "But that could've been a game-changing play. Klein had the angle to the end zone on him, too."
According to Weis, Heeney is a one of those classic, play-the-way-you-practice football players. That's not always a good thing.
"Sometimes, in practice, when it's offense against defense, if you're not going full speed, he'll still take you to the ground," Weis said. "On one side of my mouth I'm screaming at him, the other side I'm laughing because the guy only knows one speed."
For a defense that has shown small improvement but still ranks 97th in the nation in total defense, Heeney has been the kind of steady force Weis would like to see more often.
"He's called out in a positive manner by his defensive coaches all the time," Weis said. "That's been the Ben Heeney that I've known since I've been here."
Kicking game changes?
On his weekly radio show Monday night, Weis hinted that he might use some different players in the kicking game Saturday against Oklahoma State.
"I think the one thing you'll see is we're gonna get some other specialists involved in the game," Weis said. "That's the way you try to improve it. And that won't be the only position."
So far this season, junior kick Ron Doherty has made just five of 10 field goals, including a 1-of-5 mark on kicks longer than 30 yards. In the loss to K-State, Doherty missed a 24-yarder.
An updated depth chart will be released today, but freshman Austin Barone and sophomore Nick Prolago were listed behind Doherty on last week's depth chart.
KU-OU kickoff set
The Big 12 Conference announced Monday morning that KU's Oct. 20 football game at Oklahoma would kick off at 6:05 p.m. and would be televised on Fox Sports Net.
Kansas is traveling to Oklahoma for first time since the 2008 season, when the Sooners claimed a 45-31 shootout victory. The Jayhawks and Sooners combined for 1,165 yards of offense, including 825 through the air.
OU leads the all-time series with KU, 69-27-6. The Sooners are also 36-13-3 against the Jayhawks in Lawrence.