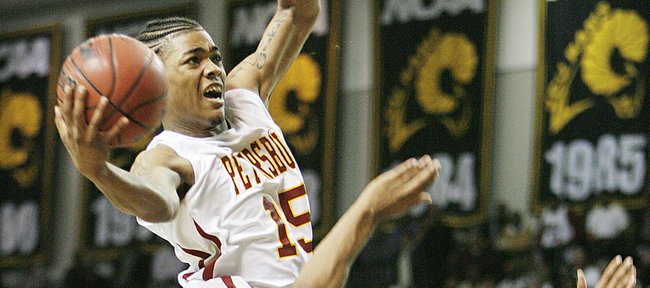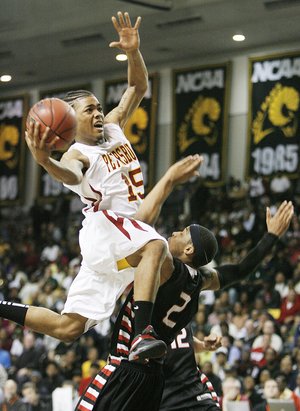 Virginia native Frank Mason, who cited Kansas University's tradition in basketball as one reason for orally committing to the Jayhawks, hopes his college career mirrors one of his all-time KU favorites.
"I think I can do as well as Sherron did at KU. I do," said Mason, a 5-foot-11, 180-pounder from Massanutten Military Academy in Woodstock, Va., who has been compared physically to former KU great Sherron Collins.
"I'm ready to come in and be point guard on a national championship team," Mason added in a phone interview.
Mason, who announced for the Jayhawks on Monday over Virginia Tech, South Carolina, Providence, Seton Hall and Rutgers, averaged 25 points a game his senior year at Petersburg (Va.) High. He signed a letter-of-intent with Towson University last November, but failed to qualify academically, so he headed to military school for this school year to work on his academics.
His new coach mentioned the same familiar name when asked if Mason reminds him of any other player.
"He has that stocky strong build like Sherron Collins," said Chad Myers, head coach at Massanutten who previously worked on the basketball staff at Radford University. "I don't know if he shoots it as well from deep, but he might be a little bit quicker even. He's fast with the ball and really a good defender. With his size and stature, that's one of the guys who comes to mind."
Collins was a top-20 national recruit, while Mason currently is ranked No. 131 in the Class of 2013 by Rivals.com.
"I think he is very underrated. That's my honest opinion," Myers said. "He had a great summer (playing for future KU teammate Andrew White III's Team Loaded AAU squad). I thought he was the best point guard on the floor pretty much every game he went out there. He's very, very fast and can get pretty much anywhere he needs to get on the floor. He's a lights-out shooter but can also get to the rim and make shots. He can put up points in bunches and put up points in different ways. He's a true point guard, one of those guys that can set up and make everybody better on the floor. He actually makes all the right plays and right decisions.
"I think the ratings will change, but I think (because of rankings) the kid has a little chip on his shoulder. He's not worried about the rankings, but he's going to go out and prove to everybody he's pretty good, which I like in him. He uses that to motivate himself a little bit."
Mason, who was offered a scholarship by KU in July shortly after he exploded for 50 points in an AAU game, believes he can play with the best.
"I don't care about rankings," he said. "I work hard every day. I get in the gym whenever I can to work on my game. As point guard, I try to get my teammates involved. I attack the rim and knock down the jumper and feel I can guard the other team's point guard."
Mason, who visited KU last weekend, returned to Virginia to speak with his parents before gobbling up Bill Self's scholarship offer.
"I chose KU because of its tradition, coach (Bill) Self's winning percentage and the type of players they have there," Mason said. "I want to align myself with players of that ability and character. They are all the type of people I want to be around.
"It's a great program, from academics to basketball. I talked with the players a lot and knew it was the right place for me. It's a great program. They've won a lot of Big 12 championships, made a lot of Final Four appearances and have multiple national championships. It's a dream come true."
He's looking forward to teaming with White, a fellow Virginia native.
"We are very close. We play summer ball together," Mason said. "Andrew is a great kid on and off the court. He can shoot, attack and finish."
Mason's military school coach says he likes what he's seen in Mason the student as well as the player.
"Obviously we are a military school here. He's great in the (daily) formations and those types of things, which obviously is a change for a lot of people," Myers said. "He's a great kid, been great to coach here, competing every day trying to get the best out of himself and his teammates."
Recruiting services list Mason as 5-foot-11, while the Richmond Times-Dispatch has him at 6-1.
Mason tells the Richmond paper he will take the SAT exam on Nov. 3.
KU, which has two remaining scholarships to give, has received oral commitments from No. 22-ranked Brannen Greene, 6-7 from Tift County (Ga.) High, and No. 28 Conner Frankamp, 6-foot from Wichita North. KU earlier missed out on point guards Anthony Barber (North Carolina State), Chris Jones (Louisville) and Demetrius Jackson (Notre Dame). KU is recruiting point guard Roddy Peters, 6-4 from Suitland High in District Heights, Md., who will visit on Oct. 19. He's ranked No. 39 in the country.
Shepherd picks TCU: No. 43-rated Karviar Shepherd, a 6-10 senior from Prime Prep Academy in Dallas, on Monday orally committed to TCU, ESPN.com reports. He chose the Horned Frogs over KU, Texas A&M;, Texas and Oklahoma. He had previously scheduled a visit for Friday's Late Night in the Phog.