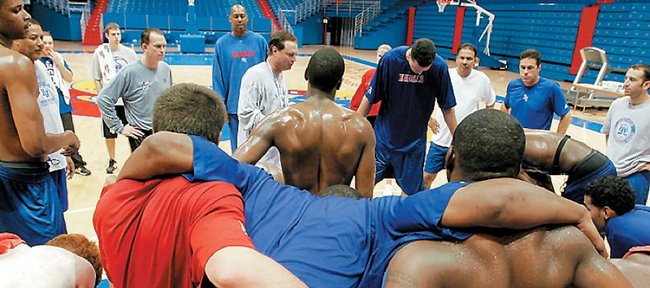 Perry Ellis didn't particularly enjoy hopping out of bed at 5 a.m. and staying up until 10 p.m. or so the past two weeks.
"I'm not going to lie. It was long days, but we got through it. We're finally done. It feels great," said Ellis, Kansas University's freshman basketball forward from Wichita.
He was speaking with a smile on his face Thursday after the 10th and final up-before-the-crack-of-dawn, hourlong Bill Self Boot Camp conditioning workout in KU's practice facility adjacent to Allen Fieldhouse.
The Jayhawks, who had two-a-days on the first day (Sept. 24), finished Boot Camp a day early as a reward from their ever-demanding coach.
"I think it put it through the roof," Ellis said of his personal conditioning. "We'll just see where it goes from here."
The Jayhawks now will taper a bit leading up to Late Night in the Phog and the start of the 2012-13 season a week from today in Allen Fieldhouse.
"I believe it was one of the better ones we had," Self said Thursday, referring to his 10th KU Boot Camp. "We got off to such a bad start we had to repeat last Monday morning's workout in the afternoon. Guys at that point in time realized the only way they'd want to do this was do it together, be positive and have great attitudes.
"I think they were feeling kind of sorry for themselves at the start of it and nervous. It got really good. We were hard on them, still I think they got a sense of pride from this one. I was pleased with it. Now, that doesn't help you get the ball in the basket. I think we'll draw from this over the course of the season, which I hope will be a big positive for us."
Which individuals impressed?
"They were all good, but Kevin Young ... wow," Self said of the senior forward. "Kevin Young and (senior forward) Travis Releford to me just stand out."
The 6-foot-8, 190-pound Young said it was "fun. I love to run so it wasn't as hard as what I expected. I could do it all day. As a team I think it brought us together. It obviously helped us on our defensive skills (running slides), being able to stick together and do it as a group."
He mentioned the work of freshman guard Andrew White III. "He did pretty good on his sprints (on final day). He came up first on a couple of them. He impressed me a lot," Young said.
"Elijah, Jeff and Travis ... they've been through it multiple times," Young added of seniors Elijah Johnson, Jeff Withey and Releford. "They showed their leadership getting through it and encouraging everybody else."
Releford has survived five Boot Camps, counting his red-shirt season.
"It wasn't as bad as I thought it'd be," Releford said. "At the beginning, I thought it'd be tough on a lot of the new guys. They overcame it completely. All of them stood out a bunch. I didn't think a lot of them would complete it (running sprints, slides and backboard touches for an hour straight five days a week). They proved me wrong."
Ellis believes completing the early-morning conditioning drills, followed by afternoon weightlifting and pick-up games and nighttime tutoring sessions, says a lot about his teammates.
"I would say we got a feel for each other. We gained chemistry as a team," he said.