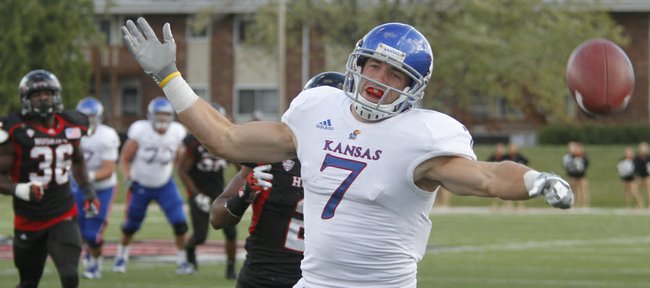 Mention the name Kerry Meier to the average Kansas University football fan, and the image of No. 10 slipping behind the Missouri defense on a freelance pattern immediately surfaces, replete with snowflakes falling in Arrowhead Stadium and Todd Reesing lobbing him the game-winning touchdown pass.
Mention Kale Pick, and the image of No. 7 all alone near the end zone in DeKalb, Ill., comes to mind. That too was the game's pivotal play as well as that of the first third of this KU football season, when quarterback Dayne Crist missed Pick for what would have been a 29-yard touchdown against Northern Illinois.
That Pick's signature play bore no fruit is no fault of his and in a sense captures his college football career. Kansas has gone 11-29 in the four years Pick has played in games after spending his red-shirt season as a quarterback. Again, it's not his fault. The former quarterback from Dodge City High has had a pretty decent career as a receiver.
He earned the starting job at quarterback as a third-year sophomore, but lost his job in the second half of the opener, never to regain it. The rap on him was that he couldn't pull the trigger quickly enough, and he who hesitates at quarterback is lost. He became a reserve receiver later that season.
As a junior, Pick ranked second to D.J. Beshears in receptions (34) and receiving yards (437). Despite missing the TCU game with a knee injury, Pick leads KU with 148 receiving yards, edging Daymond Patterson (147), Andrew Turzilli (145) and Tony Pierson (135). Those four combined have not scored a touchdown. Tight ends Jimmay Mundine and Mike Ragone were on the receiving end of Crist's two touchdown passes.
How did Pick get so wide-open against Northern Illinois anyway?
"We faked left, and the safety had his eyes on me, and I ran up at him pretty hard and just kind of acted like I was going to block him," Pick said. "He bit on the run hard and went right past me."
It didn't work out. Pick will try to find the end zone against Kansas State, the school he always considered KU's biggest rival, the school that tried to get him to decommit from Kansas after he already had decommitted from Arkansas.
"I was sold on KU, and I didn't want any part of any other school, so I kind of cut him off early," Pick said of former K-State coach Ron Prince.
Why Kansas?
"KU was doing well," he said. "They just won the Orange Bowl. I really liked how things were going and where they were headed."
Things quickly changed direction at both schools. Pick has played for Mark Mangino, Turner Gill and Charlie Weis. Bill Snyder is back at Kansas State. That's not what Pick envisioned, but he doesn't complain.
"I'm glad I chose here," he said.