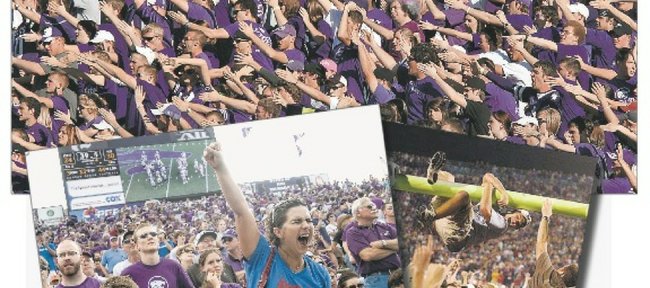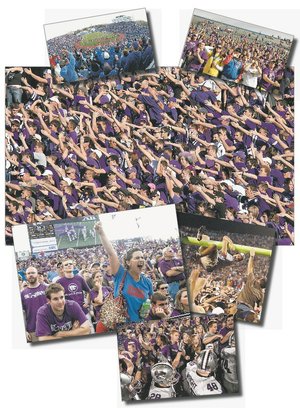 There are 24 native Kansans on the Kansas University football roster and several other players who have been in town long enough to understand the significance of the annual Sunflower Showdown between KU and K-State.
But perhaps the biggest indication that the rivalry has reached a higher level this year than in years past is the way the newcomers talked about it this week.
"Since I got here in June, I've gained these relationships with these guys, and I've felt how they've felt," said senior tight end Mike Ragone, a native of Blackwood, N.J. "This is a very personal game, so once I started figuring that out, it got very personal for me, as well. I'm here. I'm KU. I'm not New Jersey right now."
Although the game, which has been played 109 times dating back to 1902, always has had special meaning — particularly to the Kansans on both rosters — it has taken on new importance in 2012, with KU's most bitter rival, Missouri, now playing in the SEC. The Jayhawks, new and old, have embraced the new approach, and first-year KU coach Charlie Weis has made sure of that.
"I think it feels a little different," KU senior receiver Daymond Patterson said. "They (the Wildcats) were always a big rivalry, and we knew that, but at the end of the year we knew we always had Mizzou. Now this is the game."
While Saturday's contest — 11 a.m. at Bill Snyder Family Stadium in Manhattan — will mark his final shot at the Wildcats, Patterson said he appreciated the new approach, given that he believed the Sunflower Showdown was underplayed a little during his first four years in town.
"In past years, it was a big game," Patterson said. "But it was nowhere near as big as what the KU-Mizzou game was."
In fact, Patterson remembered having to be set straight about the rivalry hierarchy early on in his KU career.
"When I first got here, I was like, 'That's not our rival?' And people would say, 'Nah, it's Missouri,'" he recalled. "So it's kind of confusing when you first get here. But we're moving on to this, and we're gonna make this the big game. Now that coach Weis is here and Missouri's gone, he sees how important this is. We're not overlooking this game."
This year's KU squad features several people who have experience in some of the greatest rivalries in football. From Notre Dame-USC in the college ranks to Kansas City-Oakland in the professional ranks, those past battles have aided the new guys in their attempt to help bring the KU-KSU showdown to new heights. Earlier this week, a few of them shared their favorite rivalry memories.
"Oh, gosh, Cowboys-Redskins is probably the biggest one," defensive coordinator and former Dallas Cowboys head coach Dave Campo said. "There's no love lost for anybody there, and I'd like to see this one be that way all the time. I'm not sure that's been the case over the years."
Added offensive line coach Tim Grunhard, who played college ball at Notre Dame and professionally in Kansas City: "Notre Dame-USC, Notre Dame-Michigan and, with the Chiefs, the Raider rivalry. They're always special games. And the reason why they're a rivalry is (a) proximity and (b) because something really strange happens like a big upset or a great, close game."
For Ragone, that something strange came back in middle school, when he switched squads to avoid playing on the offensive line.
"I played all my old friends," he said. "But we still went to the same middle school, and it was havoc. Bragging rights, everything. And I put a whuppin' on 'em. It was awesome. I've been in some big games, but I am really, really looking forward to this. We're pumped. We're really ready to get this going."
Ragone said he was thrilled that Saturday's game was scheduled to kick off so early because it limited the amount of time the Jayhawks would have to wait. He said the team spent the bulk of its off week focusing on K-State and has turned things up a notch this week. At the start of Wednesday's practice, Weis instructed staffers to play the K-State fight song on a loop for 5-10 minutes so his players would get sick of hearing it.
"No. 7 in the country, their place, 11 o'clock in the morning," Ragone said. "We're ready. If you can't get motivated for this game, then you shouldn't be playing football."