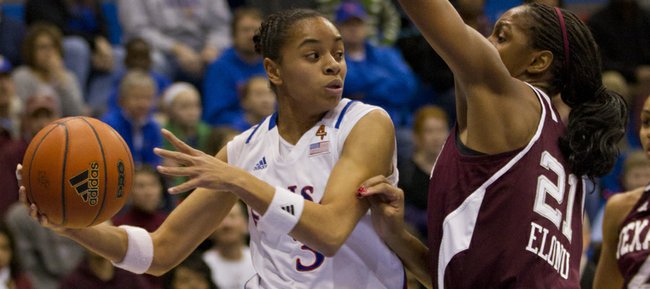 Kansas senior point guard Angel Goodrich was named to the preseason all-Big 12 team, the conference announced Wednesday.
Goodrich — a Tahlequah, Okla., native — averaged 14 points and an NCAA-leading 7.4 assists per game last season in helping the Jayhawks to a Sweet 16 appearance.
"I'm really excited for Angel and I have so much respect for the coaches in our league and for them to tip their hat to her is quite an honor," KU coach Bonnie Henrickson said. "This league has such elite players and for Angel to be recognized as one of the top-five players in our conference is a testament to the work she has put in and just how talented she is."
KU senior forward Carolyn Davis also was named preseason all-Big 12 honorable mention.
Preseason Player of the Year
Brittney Griner, Baylor
Preseason Newcomer of the Year
Jackie Patterson, Texas Tech
Preseason Freshman of the Year
Alexis Prince, Baylor
Preseason All-Big 12 Team
Brittney Griner, Baylor
Odyssey Sims, Baylor
Chelsea Poppens, Iowa State
Angel Goodrich, Kansas
Aaryn Ellenberg, Oklahoma
Honorable Mention (listed alphabetically by school)
Destiny Williams (Baylor), Carolyn Davis (Kansas), Brittany Chambers (K-State), Whitney Hand (Oklahoma), Chassidy Fussell (Texas), Asya Bussie (West Virginia).