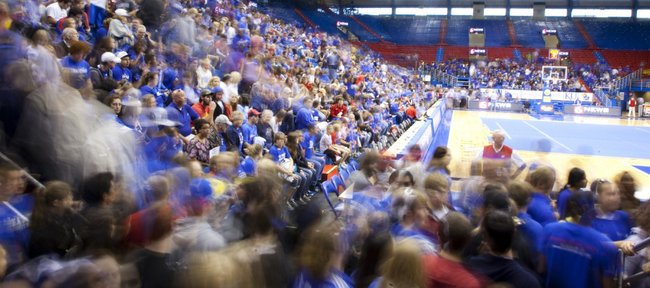 Kansas University's 28th-annual Late Night in the Phog will run from 6:30 p.m. until approximately 9:30 p.m., Friday, Oct. 12 in Allen Fieldhouse, KU's athletic department announced Wednesday.
Doors will open at 5:30 p.m. for the free event. Fans are encouraged to bring nonperishable food items, which KU will donate to Just Food of Douglas County.
Seating will be on a first-come, first-served basis. Children 12 and under will not be admitted without an adult, and doors will be closed when the arena reaches capacity.
All university parking lots will be by restricted by permit only until 4:30 p.m. The event is highlighted by scrimmages and skits of both the men's and women's teams.
The event will be televised by Metro Sports of Kansas City as part of its Midnight Madness show. Also, ESPNU will show live cuts-ins from its Midnight Madness programming to run from 8 p.m. until midnight. It will be aired online at AT&T; Jayhawk All-Access via KUathletics.com.
Peters update: Roddy Peters, a 6-foot-4, 180-pound point guard from Suitland High School in District Heights, Md., on Tuesday received a scholarship offer from KU coach Bill Self during an in-home visit. Other schools to offer Rivals.com's No. 39-rated player: Georgetown, Maryland, Xavier, Memphis, Rutgers, Seton Hall, UCLA and Virginia Tech.
"Coach Self, a big part of his presentation to Roddy was, if you look at some past Kansas teams, they've always had a number of ball handlers," Suitland coach George McClure told Rivals.com. "When Kansas won the (NCAA) championship in '08 with Sherron Collins, Mario Chalmers and Russell Robinson, and some other guards, Self had three guys right there that would have been very good point guards on any other team.
"But because of Self's system, he can put multiple ball handlers on the court at one time. That was definitely a big selling point for Roddy."
Peters, who visits UCLA this weekend following recent trips to Xavier and Rutgers, likely will choose a school shortly after his Oct. 19-20 KU visit, his coach indicated.
Conference domination: ESPN pointed out Wednesday that KU, which has won eight straight Big 12 regular-season titles, has the longest conference championship win streak in the country. Gonzaga last year had its 10-year run of dominance snapped by Saint Mary's in the West Coast Conference, and Xavier had a five-year run in the Atlantic-10 end.
Harrisons to choose today: Twins Andrew and Aaron Harrison, 6-5 seniors from Travis High in Fort Bend, Texas, will orally commit to either Kentucky or Mark Turgeon's Maryland program during an ESPNU recruiting show at 4 p.m. today. Aaron is the country's No. 3-rated player, Andrew No. 4.
Wright to Israel: Former KU forward Julian Wright will be playing basketball this season for Israeli League team Maccabi Rishon-LeZion, Wright reported Wednesday on Twitter. Terms were not disclosed.