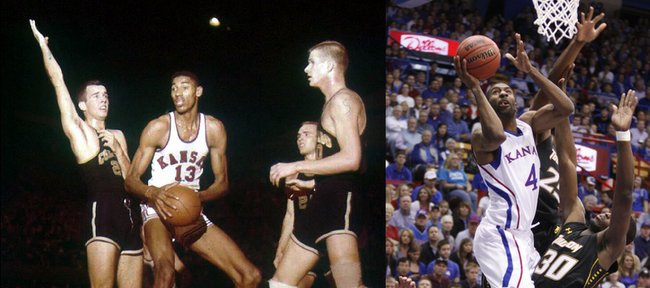 Thursday is the last day for the upcoming feature film "Jayhawkers" to receive much-needed funding from the community whose story it tells.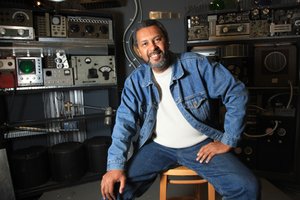 If it doesn't receive $50,000 in contributions by Thursday, "Jayhawkers" — set in Lawrence in the late 1950s — doesn't get any of the money that's been pledged so far. Pre-screening tickets, DVDs, posters, T-shirts, and roles as extras in the movie are just some of the rewards being offered to entice people to donate and help fund the film. So far it's about halfway there.
Kansas University Associate Professor Kevin Willmott is directing "Jayhawkers," his fifth full-length film, but the first one to use a Kickstarter campaign to raise crucial money for the production. From the title to the setting, "Jayhawkers" already sounds like a local movie, but it is local in every sense of the word, right down to the talent being hired to put it together.
The movie is being shot in Kansas, and Willmott has cast primarily Kansas graduates and students in the main roles, including one current KU Jayhawk basketball player.
Junior forward Justin Wesley will make his acting debut as KU Hall of Famer and pro basketball legend Wilt Chamberlain, while KU graduate Jay Karnes ("The Shield," "Sons of Anarchy") will play former KU chancellor Franklin Murphy. Veteran character actor and KU graduate Kip Niven ("Law & Order," "Magnum Force") will take the lead role of former Jayhawk basketball coach Forrest "Phog" Allen, known by many as the "Father of Basketball Coaching."
We caught up with Willmott to learn more about the movie's local connections and its wide-ranging historical context:
Eric Melin: What prompted you to write this story and how long has the project been in the works?  
Kevin Willmott: Articles about Wilt's years at KU appeared after his dramatic appearance here to retire his jersey [in 1998].  I had known little about how Chancellor Murphy used Phog Allen's recruiting of Wilt to desegregate the town. Seemed to me like a great story to tell.
EM: How did Wilt Chamberlain and the late-'50s-era Jayhawks change basketball? What have been the lasting effects? 
KW: There had never been anyone like him before, and, frankly, there's never been anyone like him since. At that time, there weren't that many guys who were 7 feet tall, and if they were, they couldn't handle the ball. He, on the other hand, could do anything.
EM: With such a broad spectrum of themes — civil rights, the modernization of college sports, Brown v. Board of Education, Chamberlain's ascension, cultural change in Kansas — what will you focus on and how tough will it be to keep a balance? 
KW: "Jayhawkers" is really a movie about Phog Allen, Chancellor Murphy, and how the recruitment of Wilt Chamberlain changed KU, the Lawrence community and college sports forever. It was just after Brown v. Board, and before Dr. (Martin Luther) King — a very interesting moment in U.S. history.
EM: What locations have you scouted and how much of the film will be shot locally? How much of the crew will be local? 
KW: We are shooting in Lawrence and nearby — Kansas City, Topeka, Leavenworth — for some locations. The crew is entirely local, primarily current and former KU students. We are partnering with Through A Glass Productions, a terrific locally based production company that works all over the place. Lawrence has really developed an excellent production team over the past 10 years. This is a great place to shoot indie films.
EM: What will be the biggest challenge in shooting a period piece? 
KW: Well, shooting a period piece is, in fact, our biggest challenge. Everything has to be right — wardrobe, electronics, cars, etc. We've done it before. This film will be in black and white, which will help.
EM: What were you looking for in an actor to play a legend like Wilt Chamberlain?
KW: On the recommendation of Coach (Bill) Self, we have cast Justin Wesley, who is one sharp young man. We're delighted with Justin.
EM: Why is it important to tell this story now, in today's cultural climate? 
KW: My films often deal with race relations and untold American history, and this one certainly fits that bill. So few of us actually remember segregation clearly, and many young people might not really understand it at all. This shines a light on a moment when some unlikely allies who made an effort and started to make things better.