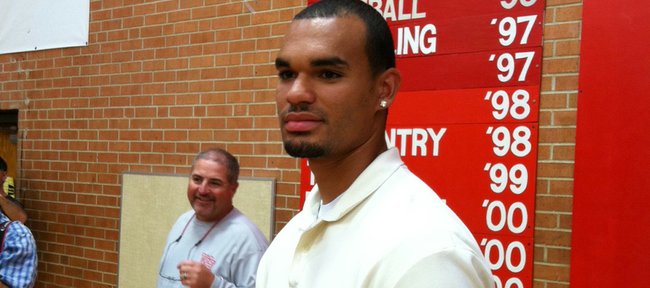 Kansas University's basketball players have completed half of their NCAA-allocated 10 practices preceding an Aug. 6-14 tour of Switzerland and France.
The five workouts — which have run about two hours apiece — have definitely tested the squad's six true freshmen and two freshman walk-ons.
"It's a lot more physical than high school," said Perry Ellis, a 6-foot-8, 225-pound freshman forward out of Wichita Heights. "We've got a great group of guys.
"I mean, it's always fun going and competing with them," Ellis added Thursday — the final day of KU's second and final session of summer school.
Landen Lucas, a 6-10, 230-pound center out of Portland's Westview High, reported that his first college workouts, "have been great. The competition on the floor is all you could ask for. It gets you better as a player."
It should come as no surprise which KU upperclassmen have been leading the way.
"There are a lot of players that are around the same. I think the three main guys for us this year are going to be Trav (Travis Releford), Elijah (Johnson) and (Jeff) Withey, but I'm sure a lot of people already expect that," Lucas said of the three KU seniors. Also on board is senior forward Kevin Young, who is beginning just his second year with the program after playing two years at Loyola Marymount.
"Elijah is very vocal," Lucas said of the 6-4, 195-pound point guard from Las Vegas. "I think it (Johnson's leadership) will be good to help this team because we've got a young team. Someone like that coming in and running point guard and being vocal is good.
"We're going to shock a lot of people," Lucas continued, referring to the newcomers. "A lot of us have a lot to prove. Each one of us does. I think we are all excited for the trip to France and excited to get the season started."
Fifth-year senior Releford said he has been pleasantly surprised by the play of the large group of newcomers.
"Practice is going good so far. These young guys are catching on a lot faster than I thought they would coming in. I think that's good progress for the team," said the 6-6, 210-pounder from Kansas City, Mo. "This overseas trip can help out a lot as well. We will actually be able to play and put everything together."
Releford was asked which new players are better than he expected.
"Most of them," he said. "Andrew (White, 6-6, Miller School, Charlottesville, Va.) and Perry really stand out a lot. Andrew's a real good shooter."
Of inside players Ellis, Lucas and Zach Peters (6-9, 240, Plano, Texas), Releford said: "They are all good. They are coming along working with coach (assistant Norm) Roberts. I feel all the new guys coming in can help us a lot."
Releford said offense has been a point of emphasis during the first five practices. The Jayhawks, like all teams, also are allowed an additional two hours a week practice time in accordance with new NCAA summer rules.
"It's not near like the regular season," Releford said. "It's offense, offense, offense. Everything is offense. We haven't broken down what we need to do on defense. He (coach Bill Self) is basically trying to get the young guys a good feel on how we want to do things."
Releford grinned when asked if Self was intense at workouts.
"Of course he's screaming. He's a coach. He's going to push us to get better and stay on us," Releford said. "He's not going to back off just because it's not the real season."
Johnson scrimmaging: Johnson, who had arthroscopic left knee surgery in mid-April, has been able to take part in scrimmage situations.
"He's slowly getting stronger. He's practiced and had reps," Releford said. "He's looking all right. You can tell he's not 100 percent yet."
Of 7-foot, 235-pound center Withey, Releford said: "He's looked good. He's been working on his game all summer, working a few camps (Amar'e Stoudemire and LeBron James). He's continuing to get better."
Just OK: Self was asked if there have been any obvious highlights in the five practices. "Nope. It's just been OK," he said, rating the workouts.
What a summer: It's been at or near 100 degrees almost every day Oregonian Lucas has been on campus.
"It is hard, but you are learning how to stay hydrated," Lucas said. "I spent that one year in Vegas (Findlay Prep his junior year) when it was 110 degrees every day. You learn little tips and different ways to stay hydrated and make sure you are not cramping when practice rolls around."
He's a big right now: Ellis has been working out with the bigs at practice. The McDonald's All-American figures to play inside and out during his KU career.
"It's good," Ellis said of his role. "I want to do whatever I can to make the team better."
Russell Robinson signs in Italy: Former KU point guard Russell Robinson has signed to play professional basketball next season with Angelico Pallacanestro Biella, the Italian club announced Thursday. Robinson averaged 13 points and three assists last season for Trabzonspor in Turkey.