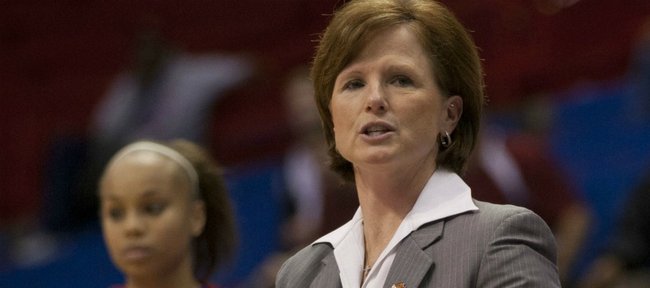 Kansas University's women's basketball team is about to encounter its biggest challenge of the season.
The Jayhawks have jumped out to an 11-1 record in their non-conference schedule, but when they play at No. 23 Texas at 8 tonight, they open Big 12 play with their first game against a ranked opponent.
KU, which has won four in a row since losing, 80-76, at Alabama on Dec. 4, is 1-1 on the road this season with a Nov. 20 victory at Wake Forest.
Coach Bonnie Henrickson said the Jayhawks have been great at practice since returning from their holiday break, and she can tell the players' attention to details and energy have picked up in anticipation of facing a UT team that has won four straight match-ups with Kansas.
"I really feel good about the progress we've made and we're excited about the opportunity," Henrickson said.
The Longhorns (10-2) enter the Big 12 opener for both programs on a five-game winning streak. Their only losses this season came to perennial national powers No. 4 Stanford and No. 6 Tennessee.
KU junior forward Carolyn Davis, who leads the nation in field goal percentage (68.1), said knocking off Texas won't be easy.
"They'll be a really physical team, and they'll be a lot different from what we've been seeing," Davis said.
Similar to KU's starting backcourt of Angel Goodrich, Natalie Knight and Monica Engelman, the Longhorns start a three-guard lineup: Chassidy Fussell, Ashleigh Fontenette and Yvonne Anderson. Henrickson said speed is one of UT's biggest strengths.
"They're really, really good in transition, and that's where they got us last year," the eighth-year KU coach said.
Fussell, a UT sophomore guard, has looked like an All-Big 12 player, Henrickson said. Fussell leads Texas with 16.7 points per game. The Kansas coach also was wary of Longhorns sophomore forward Cokie Reed, who missed last season with a right-foot injury. Reed scored 18 points off the bench in an 85-82, double-overtime victory for Texas on Feb. 13, 2010, at Allen Fieldhouse.
"She's a big kid who can do a lot of damage in front of the rim," Henrickson said of the 6-foot-4 post player.
In the Jayhawks' last two meetings with UT, Henrickson added, Texas has hurt KU with offensive rebounds. The Longhorns have averaged 18 boards on the offensive glass and 13.5 second-chance points in their previous two victories over Kansas.
KU junior point guard Goodrich (second in the nation with 8.1 assists a game) said the Jayhawks have been playing well, and they will need to keep that up at Texas.
"We've got to stick together," Goodrich said. "It's on the road, so it's only gonna be us against them and all of their fans."
A win at Texas could be a step in the right direction for Kansas, which finished 6-10 in the Big 12 last season.
"With them being ranked, it'd be a big win for us," Goodrich said, "because we haven't played a ranked team yet."
Henrickson downplayed the importance of beating a ranked opponent, citing the Big 12's overall strength.
"In this league, it's a big statement to win on the road, anybody you play," Henrickson said.
Davis, who leads the Jayhawks with 17.4 points a game, said opening the conference schedule in the win column would be "really great" for the team's confidence.
The Jayhawks last beat Texas, 50-49, at UT on Feb. 10, 2007.