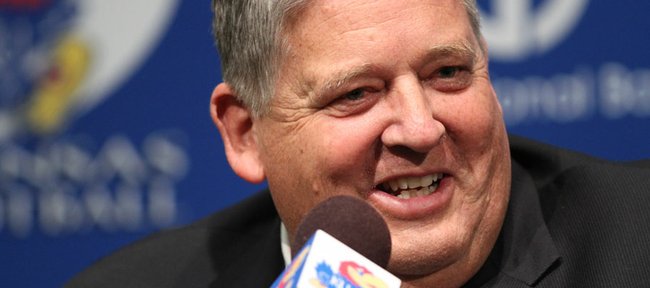 When Charlie Weis was introduced as the new football coach at Kansas University in early December, he was asked how much he knew about the KU program.
His answer?
"I knew that they were 2-10," he said.
Either Weis was not being completely honest at the time, or he's a fast learner. That much is obvious based on the two positions Weis has put the most emphasis on upgrading during his first month on the job.
Throughout the past two seasons, KU had two glaring weaknesses that kept the Jayhawks from being competitive with most of the teams on their schedule. The first was quarterback, and college football fans across the country already are well aware of the improvement Weis has inspired at that position. Former Notre Dame quarterback Dayne Crist will be eligible to play out the final year of his career in 2012 and BYU transfer Jake Heaps will first be available to play as a junior in 2013.
Beyond the most visible position on the field, Weis has attacked the defensive line, where KU was undersized, overmatched and lacking depth. With junior-college recruits Keon Stowers and Ty McKinney firmly committed to KU, that might not be the case heading into next season.
Stowers, 6-foot-3, 273 pounds, has played defensive end for much of his college career at Georgia Military College. But the KU coaching staff already has talked about moving Stowers inside.
"From the first time I ever even talked to a KU coach (Reggie Mitchell), the first thing that we talked about was the weakness on the D-line and the opportunity that I had to come in and play," Stowers said. "We talked a lot about me putting on about 15 more pounds, getting up to 295 and playing (defensive tackle). That shouldn't be a problem for me. I was playing at 285 in the spring."
Stowers said his size was the one thing that Weis went on and on about when he first talked to his new head coach.
"When he first called me, he said, 'Dang, I love your size,'" Stowers recalled. "And he was sizing me up. That was pretty cool."
McKinney, who played the past two seasons at Trinity Valley Community College in Athens, Texas, committed to KU after Turner Gill was fired and before Weis was hired. He developed a strong relationship with Buddy Wyatt, who coached the defensive line under Gill and will have the same job in 2012, KU officials announced Tuesday.
With Toben Opurum and Keba Agostinho returning at defensive end and John Williams expected back from injury, the two juco tackles could add depth and talent to a position in desperate need of some help.
Add to those headliners, defensive linemen Pat Lewandowski, a sophomore-to-be, who played in 11 games and recorded one sack and three QB hurries in 2011, Kevin Young (nine games) and freshmen Ben Goodman (red-shirt) and Michael Reynolds (10 games), and it's easy to see that, with new faces and a little experience, KU's D-Line, at the very least, will look a lot different in 2012.
"When I was on my visit, I got real close with Ben Goodman," Stowers said. "He was my host, and we've been talking a little bit. I called him as soon as I committed and he just said, 'Get up here and let's go to work.'"
KU also continues to track defensive linemen, including junior college prospects Chaquil Reed, 6-3, 290, of Butler County CC, and Ken Bishop, 6-2, 300, of Ellsworth CC in Iowa.
Ianello, Wyatt officially added to Weis' staff
Four weeks into his new job, Weis continues to lean on his experience at Notre Dame to shape his coaching staff at Kansas.
Tuesday, Weis officially named Rob Ianello as his wide receivers coach and recruiting coordinator, and also announced that he would retain Wyatt as defensive line coach.
Ianello, who, in December, was fired as the head coach at Akron after going 2-22 in two seasons, worked under Weis from 2005-09 at Notre Dame. From 2005-08, he was the Fighting Irish wide receivers coach and recruiting coordinator. In 2009, he was promoted to assistant head coach for offense. In that role, he led offensive staff meetings when head coach Charlie Weis was not present, and later served as the team's interim head coach.
During his time at Notre Dame, Ianello mentored 2009 Biletnikoff winner, Golden Tate, and also coached Jeff Samardzija, who was a Biletnikoff finalist in 2005 and 2006 and an All-American in 2006.
As the Irish recruiting coordinator, he directed three consecutive top-10 recruiting classes from 2006-08. He also landed on Rivals.com's list of the nation's 25 best recruiters each year at Notre Dame.
Wyatt, one of three coaches who remained active for the Jayhawks following the firing of Turner Gill, will keep his spot as defensive line coach but no longer holds the co-defensive coordinator tag.
Wyatt came to Kansas prior to the 2010 season, after spending 2008 and 2009 at Texas A&M.; Wyatt's other stops during a 22-year coaching stint include: TCU (1991), Minnesota (1992-95), Oklahoma State (1996), Northwestern (1997-98), Colorado (1999), Alabama (2003-06) and Nebraska (2007).
Johnson invited to East-West Shrine Game
Former KU linebacker Steven Johnson, a graduating senior from Media, Pa., who led the Jayhawks in tackles in each of the past two seasons, has accepted an invitation to play in the annual East-West Shrine Game, which will be played Jan. 21 at Tropicana Field, in St. Petersburg, Fla.
Johnson becomes the fourth Jayhawk in the past three seasons to accept an invitation to the longest-running college all-star game and the 48th Jayhawk to receive an invite in school history.
Johnson led the Big 12 Conference in tackles (93) and finished the season ranked 16th in the nation, with 124. Johnson, who earned both second team and third team all-league honors following KU's 2-10 season, also finished in the top 25 nationally in solo tackles with 66.
As always, proceeds from the game will go to benefit Shriners Hospitals for Children. This year's game will be televised on the NFL Network.
McCay sets KU visit
Former Bishop Miege High wide receiver Justin McCay will transfer from Oklahoma and appears to have narrowed his choices to Kansas and Kansas State.
McCay, a red-shirt freshman, who played in just three games this season because of injury, has received his release from the Sooners. The 6-2, 209 wideout told Jon Kirby, of JayhawkSlant.com, that he would visit KU this week, beginning with an appearance at tonight's KU-Kansas State men's basketball game at Allen Fieldhouse.
Missouri also may remain in the mix for McCay, a former five-star prospect who was the top-ranked player in Kansas according to Rivals.com during his senior year of high school.
Dieter picks SMU
Three-star wide receiver and Max Preps first team All-American, Gehrig Dieter, announced Tuesday, on Twitter, that he will play his college football at SMU.
"Just announced at the #smperfibowl #SMU pony up!!," Dieter's Tweet read.
Dieter, a 6-foot-3, 200-pound playmaker from Washington High in South Bend, Ind., chose SMU over Kansas.
Dieter finished his senior season at Washington with 82 receptions, 2,181 yards and 24 touchdowns. He set several national high school records this season, including most receiving yards in a game when he racked up 447 yards against Elkhart Central.