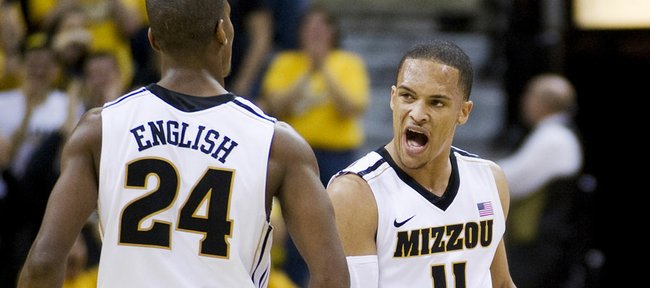 Columbia, Mo. — Missouri played as if its 13-0 start was no big deal. So much for Oklahoma's impressive start.
Kim English had 23 points and nine rebounds, and the No. 7 Tigers hit 12 3-pointers and had a big rebounding advantage over a larger opponent to open Big 12 play with an 87-49 rout of the Sooners on Tuesday night.
"I don't know that we can play any better," Haith said. "We played about as flawless a game as you can play."
Marcus Denmon added 20 points for the Tigers (14-0, 1-0), who were 12 for 21 from 3-point range, held the Sooners (10-3, 0-1) to 33 percent shooting and outrebounded them 38-23. Missouri is one of four unbeaten teams in the nation and the start is the school's best since the 1981-82 team was 19-0.
"Big 12 play got here really fast, it seems like those 13 games flew by," Denmon said. "We understand this is where teams are made, in conference play. None of those wins before conference matter."
The margin of victory entering Missouri's final Big 12 schedule was its second-biggest in conference play, trailing only a 45-point spread against Colorado in 2009. The dominance was a bit unexpected coming off tests in the last two games, in which they were outrebounded 41-31 by Old Dominion and allowed Illinois to make a game of it because of poor shot selection.
Oklahoma saw no flaws.
"We were amped up," English said. "If things are going for us, it does build. We're not looking at the score, but it did increase for us pretty well."
Oklahoma suffered the most lopsided loss against Missouri since a 66-22 setback in 1922. It's also the school's worst in the Big 12.
"Didn't offer much resistance," coach Lon Kruger said. "We're tested at this point. We'll see how we respond to it."
Andrew Fitzgerald scored all but two of his 18 points in the first half for Oklahoma, which has a pair of blowout losses against Missouri schools, falling by 20 points against Saint Louis in November. The third loss was by a point to Cincinnati.
"We suffered a loss tonight, in a big number," guard Sam Grooms said. "But I don't think confidence goes down from it because even the best teams lose. It takes a game like this to hit you in the mouth, to make you think about what you could have done, what you could have been better at."
The matchup against a school coming off an impressive pre-conference schedule attracted the first sellout of the season of 15,061. That's about a 6,000 improvement from the last home game against William & Mary on Dec. 18.
"It was great, it was awesome," English said. "So proud of our fans, and the students were gone. Started the year off right."
Ricardo Ratliffe added 13 points and eight rebounds, reserve Michael Dixon had 13 points and Phil Pressey had seven assists for Missouri.
Steven Pledger added 11 points for Oklahoma, but on 3-for-10 shooting with just three points in the first half while Missouri took a commanding 43-25 lead. Oklahoma has lost six of its last seven conference openers.
The Sooners were picked to finish in a tie for last in the Big 12 by coaches but entered the game among the national leaders in rebounding, offensive rebounds, and 3-point percentage, and held their previous seven opponents to 59 points. Missouri topped that total with 13:50 to go on its 10th 3-pointer by English to make it 61-34.
Take out Fitzgerald's 16-point half and Oklahoma was just 4 for 19 from the field. Pledger was held to three points on 1-for-7 shooting for the Sooners, who shot 35 percent and whose halftime deficit doubled their previous high.
Oklahoma was just 3 for 13 to start the game, falling behind by 10 the first 6:13. Six points from Fitzgerald in a span of 1:16 shaved the deficit to four at 20-16. Missouri answered with a 10-2 run capped by Denmon's 3-pointer with just under 7 minutes to go, and pulled away the rest of the half.