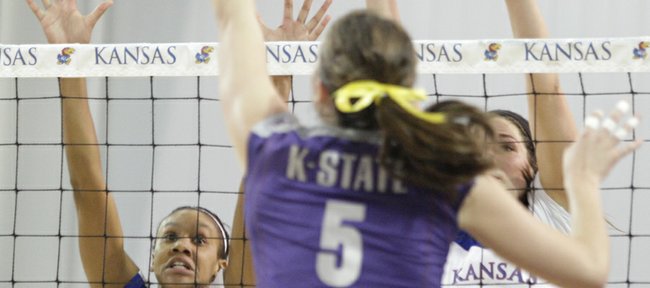 Photo Gallery
KU volleyball v. KSU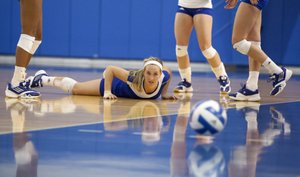 Images from the Jayhawks' Wednesday night matchup against Kansas State
Armor of ice bags taped around her, Kansas University freshman Sara McClinton had plenty of ailments to nurse after the volleyball version of the Sunflower Showdown against Kansas State.
Others had plenty of nicks and burns of their own, not an unusual sight for volleyball players who are active on the court. But despite all the effort, the Jayhawks are stuck in a spiral of disappointment.
"It's obvious that we all want it," KU senior Allison Mayfield said. "But there's more to volleyball than just wanting it. You've got to have execution."
Kansas (12-8, 0-7) fell to K-State (15-6, 4-3) Wednesday at the Horejsi Center, 19-25, 25-21, 25-20, 25-12, KU's seventh loss in eight games.
The Jayhawks started the match by winning the first set comfortably. They lost the second set, but it was close the whole way.
After the break, the team imploded.
"We let down in the pass and servicing area," KU coach Ray Bechard said. "And when those two things go, it muddies up everything."
Bechard saw the ace-to-error ratio on the stat sheet and immediately found the problem. While K-State had seven aces to two errors, Kansas struggled with one ace to seven errors.
Mayfield led KU with 17 kills, senior Nicole Tate had 38 assists, and sophomore Brianne Riley had 18 digs, but the errors were killers.
After such a promising start to the season during which the Jayhawks won 11 out of their first 12 matches, they have found themselves in a confidence-draining slump that tends to blur from one game to the next.
"Similar habits start transferring from each game until it's fixed," McClinton said. "We're going to have similar outcomes, so we need to make the changes now. We still have a season left."
The match-up looked good for Kansas coming into Wednesday, as K-State had a similar record.
They Jayhawks had home-court advantage against rivals with a boisterous crowd.
Bechard said the team had great practices on Monday and Tuesday, so the loss was as mystifying as it was painful
"I feel like we let Jayhawk Nation down," he said.
And it was even more painful the way it happened. After the break, they Jayhawks were close enough to keep the Wildcats working in the third set, but not in a position to steal a victory. They came completely unhinged in the last set.
"We know there have been experiences when we've been right on the brink," Bechard said. "Tonight wasn't one of those times."
Mayfield said the team gets into mental lulls it can't recover from. The 1-to-7 ace-to-error ratio is a result of compounding mistakes that lead from one player to the next, and it's a problem they need to fix, she said.
Texas Tech will visit Lawrence 6:30 p.m. Saturday, and it will be a battle of teams winless in the Big 12.
"They're going to come out, and they're going to want it," Mayfield said. "We've got to come out and want it more."