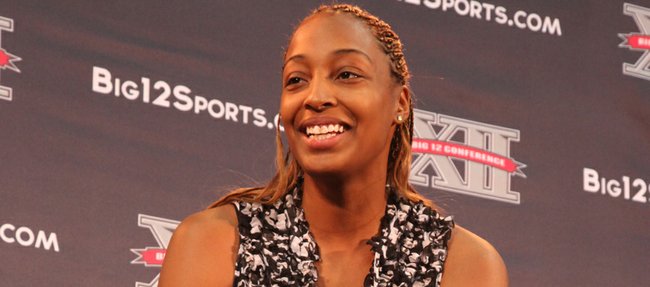 Kansas City, Mo. — Carolyn Davis wasn't named to the Preseason All-Big 12 women's basketball team for her cooking.
The Kansas University forward is known for catching fire in the paint, but Davis admitted Wednesday afternoon at Sprint Center during Big 12 media day she doesn't always have similar prowess in the kitchen.
A 6-foot-3 junior who averaged 19 points and 7.4 rebounds a game last season for the Jayhawks, Davis said she can be a good cook "at times" when hobbies were brought up during a round-table discussion with players from other Big 12 programs. But she wasn't too embarrassed to talk about a time her cooking didn't go so well.
"I had a few cooking incidents," she said with a smile.
The latest one ended with a smoke alarm going off and fire fighters being called to her apartment building. Davis said it wasn't "that smoky," but the sausages she was cooking did the trick.
"We have a sensitive fire alarm," she said. "That's what I'm gonna blame it on."
KU's opponents know Davis can do much more damage on the basketball floor. Texas Tech senior forward Kierra Mallard said the Jayhawks' leading scorer runs the floor and can be a hassle to stop on the low block.
"The toughest thing about her is when she posts up and she seals," the 6-3 Mallard said. "It's hard to get around her, and she's so tall that when she gets the ball you can't really stop her."
Clearly, Davis' play in the Big 12 is known and respected. Mallard said the best Kansas opponents can do is try to limit touches for Davis, who shot a robust 66 percent from the floor during the 2010-11 season.
"When we talk about KU, that's the first person we talk about," Mallard said. "The whole team revolves around her, and they feed off of her."
What makes her so effective, KU coach Bonnie Henrickson said, is that Davis keeps things simple and relies on "one of the most talented point guards in the country," 5-4 junior Angel Goodrich, to get her the ball where and when she needs it. That, no doubt, helps Davis play efficiently. Henrickson lauded Davis' ability to score nearly 20 points a night while averaging just 10.5 shot attempts.
"You look at her numbers, you'd think she must be taking twice as many shots as anybody else," the coach said.
Actually, junior guard Monica Engelman led KU in shot attempts last season with 379, just 23 more than Davis. Henrickson said the offense again will run through the Jayhawks' primary post threat.
"When you've got someone who shoots the ball as well as (Davis) does, we're gonna go to her first," Henrickson said. "But our league's good enough to not let her have it as much as we want her to have it."
That's where Engleman, Goodrich and senior forward Aishah Sutherland — the Jayhawks' next most reliable scorers — will come in. Henrickson said Davis knows she has talented players around her to create space and make her job on offense easier.
Likewise, Goodrich said KU's guards and wings know the benefits of playing with such a reliable post threat.
"She's a big girl, and to have her inside opens it up for us on the perimeter," Goodrich said.
Though Davis is a known commodity in the league, Henrickson said this could be the year she gains national recognition.
"The more success we have, the more we're on television, the more people get an opportunity to see her play," the eighth-year KU coach said.
Davis knows she and her teammates will become more recognizable with a berth in the NCAA Tournament, something that has eluded the program since 2000.
"I think it's the mentality of all the returners," Davis said. "We're tired of not going to the tournament."
Missouri to SEC talk: A popular topic at Big 12 media day was the possibility of Missouri leaving the conference.
Asked if Kansas should continue to play MU should that happen, Henrickson echoed an earlier statement by Kansas athletic director Sheahon Zenger: "I think the rivalry belongs in the Big 12."
A reporter asked her if she agreed with KU men's coach Bill Self, who has said he wouldn't schedule Missouri if the school left for another conference.
"Bill's won a lot more games than I have," she answered. "He can say stuff like that."