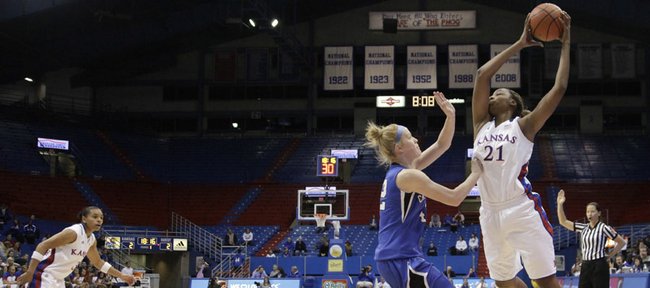 For someone who hasn't been practicing, Kansas University women's basketball forward Carolyn Davis didn't show many signs of rust Wednesday night at Allen Fieldhouse.
The junior captain only played 18 minutes in her first action since suffering a stress fracture in her right foot, but she scored 14 points for the Jayhawks in a 73-59 win against Creighton.
Davis, who missed the season-opening victory against Western Michigan on Sunday, had been held out of practice in the days leading up to Wednesday's game, KU coach Bonnie Henrickson said. But the 6-foot-3 forward was persistent in bugging her coach to let her play, because she was tired of being relegated to the exercise bike instead of running up and down the floor with her teammates at practices.
Henrickson gave Davis the OK to play, and start, after she went through 10 minutes at shoot-around hours before the game and begged her coach to let her do a layup drill after that.
Still, Davis, KU's preseason All-Big 12 forward, wasn't confident everything would go off without a hitch.
"I was worried about my stamina, if I would be able to run up and down," she said after the victory.
Davis played nine minutes in the first half and scored six points on 3-of-3 shooting. Her first touch came on the Jayhawks' second possession, but that was on the wing, under pressure, and she quickly passed the ball away. On KU's third possession, she was once again the focus of Bluejay defenders on the perimeter and turned the ball over after receiving an in-bound pass.
The next time down the floor, Davis got something positive going when she posted up and kicked the ball out to junior guard Angel Goodrich for a three-pointer that gave KU an early 5-2 lead.
Davis then got her first bucket of the night early in the shot clock by posting up in transition with her defender fronting. Goodrich lobbed a pass over the top and Davis scored an easy layup, giving Kansas a 7-2 advantage.
Goodrich, who went for 12 points and five assists, said Davis was a welcome sight for Kansas (2-0) against Creighton (2-1).
"It just makes it where people are worried about her, and it just kind of opens up the outside," Goodrich said.
Monica Engelman scored 12 points and Keena Mays added nine off the bench in the backcourt on a night that was dominated not just by Davis' return, but also by the play of senior forward Aishah Sutherland, who posted a double-double with 16 points and 14 rebounds.
Henrickson said she would like to see the 6-2 forward attack the basket more and get to the foul line, but she was pleased overall with Sutherland's production.
"She got some tough rebounds," Henrickson said. "It's easy when she's all by herself, but in traffic she got fouled a couple times and that's who I think she can be and who we need for her to be."
Sutherland wasn't satisfied with her double-double night, describing it as "decent."
"I feel like I should've knocked down more shots than I had," she said after going 7-for-12 from the floor.
The senior added that her fellow forward, Davis, made things easier for her.
"She's effective," Sutherland said of her recovering teammate. "She might be a little slower since she got those (four) fouls tonight, but she's very effective."
Henrickson said Davis' foot will be re-evaluated each day, but there have been good signs with calcium showing in the area of the stress fracture. She said temporarily shutting Davis down allowed that to happen and the staff would continue to watch her progress closely.
"It'll be day-to-day," Henrickson said. "It's about her pain and her honesty about her pain."
So just how close is Davis to 100 percent?
"I'd say I'm about 82.3," Davis said with a laugh, before adding she hopes that number will be closer to 100 by Sunday, when Kansas plays its first road game of the season at 1 p.m. at Wake Forest, in Winston-Salem, NC.
Creighton's defense troubled KU, which turned the ball over 25 times, but the Bluejays didn't shoot well enough to win. The Kansas defense held Creighton to 34-percent shooting and limited the Bluejays to 5-of-20 shooting from behind the arc. Only sophomore guard Carli Tritz, with a career-high 23 points, had a truly productive night for the Bluejays.
Henrickson said 25 turnovers sounded like something one would be more likely to find at a bakery than on a basketball court.
"We just wasted possessions," she said.