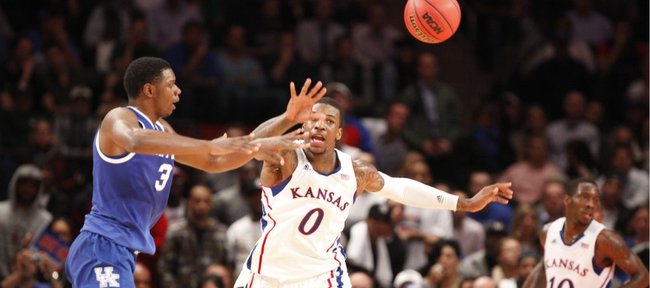 Podcast episode
Kansas coach Bill Self talks to reporters following the Jayhawks' 75-65 loss to Kentucky on Nov. 15, 2011.
KU vs. Kentucky
New York — Kansas University basketball coach Bill Self before Tuesday's game announced the signing of Zach Peters and Landen Lucas to national letters of intent.
Peters, a 6-foot-9, 240-pound senior power forward from Prestonwood Christian Academy in Plano, Texas, first committed to KU in April of 2010. He had early interest from Texas, Memphis, Kentucky, North Carolina and others.
Lucas, a 6-10, 230-pound senior from Portland (Ore.) Westview High, chose KU over Washington, Cal, Stanford and Tennessee.
"We've known about Landen for a long time. We've seen him play a lot, and he came to (Elite) camp this past summer," Self said. "He's big enough that he can defend the five (post) and certainly skilled enough that he can step away from the basket and shoot the ball. He was obviously highly recruited because his final choices were four other great programs. We're fortunate he fell in love with this place when he came out here in the summer, and we were able to convince him on his official visit this past weekend."
Lucas, who started his career at Portland's Sunset High, moved to Findlay Prep in Henderson, Nev., last year, when he averaged 6.0 points, 6.0 rebounds and 2.0 blocks per game. He's returned to Portland and attending Westview High this season.
"He can shoot it. He can pass it," Self said, citing a strong "skill set. He understands the game like the big guys we've had here in the past, such as Sasha (Kaun) and Darnell (Jackson) that really have a great feel on how to play."
Lucas is the son of former Oregon standout Richard Lucas (1987-91).
"I actually coached against his father when I was an assistant at Oklahoma State," Self said. "This is a very bright young man that will certainly achieve great things on the court and in the classroom for Kansas."
Peters, meanwhile, averaged 15.3 points and 9.0 rebounds per game last season.
"Zach's big and rugged. He can really shoot the basketball," Self said. "We can play him to where he's big enough to defend the five (post) or skilled enough to play in at the four (power forward).
"Guys that can really shoot are usually great passers. I think he will be that," Self added. "We know he's a big guy that can stretch it, but he likes to hit you, and certainly contact and physical play will not be an issue with him early in his career."
Also a football wide receiver, Peters has 13 touchdowns and 968 receiving yards entering the state playoffs.
"He didn't play summer basketball the past two years so his stock has fallen from the national rankings," Self said. "All that did was motivate this kid. Zach is a potential top-20 player. I think he'll come in and have a great impact."
KU has also announced the signing of Perry Ellis, a 6-8 forward from Wichita Heights. KU is now at the NCAA allotment of 13 scholarships for next year. The Jayhawks are awaiting word on Andrew White, 6-6 from Miller School in Chester, Va. KU is expected to have an extra scholarship available with Thomas Robinson likely to turn pro. Sophomore Justin Wesley, who arrived as a walk-on, is on scholarship this year.
Homecoming
KU senior guard Tyshawn Taylor, who hails from nearby Hoboken, N.J., spent some quality time with a batch of relatives in the lobby of the team hotel — the Affinia — on Monday night.
UK statement
In a pregame interview with the Lexington Herald-Leader, Kentucky sophomore Doron Lamb of Queens said the Wildcats hoped to make a statement Tuesday.
"We want to prove to everybody we're the best team in the country," he said of No. 2 UK.
Cal says
Kentucky coach John Calipari on KU: "Kansas is kind of like our team a year ago where everybody kind of thought they're not that good and I kept telling you all, 'I like my team and there is no one else out there that scares me. We've just got to get it together by the end of the year.' I said it probably 500 times," Calipari told coachcal.com. "I imagine right now with (Thomas) Robinson and the big kid (Jeff Withey) and the guard play they have, (Bill Self is) saying the same thing. Now you may say they're not deep, but I played six guys last year. I will tell you he's got a veteran team of good players and they're trying to make a statement too."