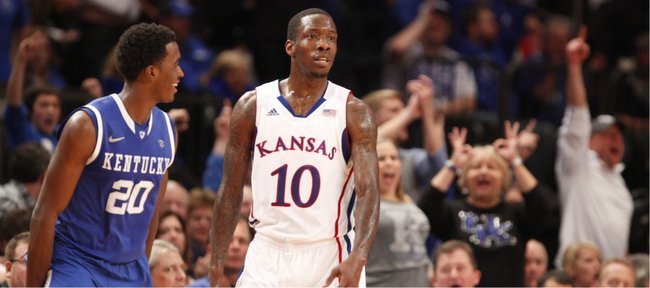 Kansas University coach Bill Self believes the Kentucky basketball team that pasted KU, 75-65, on Tuesday in New York ranks as one of the finest squads his Jayhawks have faced in the past nine years.
"We've played two teams that would rival them from a talent standpoint — one would be Memphis, and one would be Florida," Self said Wednesday on his Hawk Talk radio show.
The Jayhawks downed eventual national champion Florida, 82-80, in overtime on Nov. 25, 2006, in Las Vegas, and toppled Memphis, 75-68, in overtime in the 2008 NCAA title game.
"You are looking at maybe four lottery picks," Self added of UK's Terrence Jones, Anthony Davis, Marquis Teague and Michael Kidd-Gilchrist and/or Doron Lamb.
"If they keep getting better, they have a chance to be the best team in the country," Self added. "From a raw-talent standpoint, even the Carolina team we faced in the Final Four with (Ty) Lawson, (Wayne) Ellington, (Tyler) Hansbrough and Danny Green ... this Kentucky team may even be superior to that. That's some hard-rocking dudes. They have a real shot (at 2012 national title)."
Kentucky's athletic big men blocked 13 shots Tuesday, the most ever against a KU team. Texas blocked 12 KU shots in a 80-68 loss to the Jayhawks on Feb. 8, 2010, in Austin, Texas.
"A lot of it was because we didn't do what we should have done to get the ball in certain areas and maybe took some bad shots," Self said. "For them to block that many shots and for us to outrebound them (39-34) ... they got eight offensive rebounds and several early off long bounces. I thought our defense and rebounding were exceptional."
The score was knotted at 28 at halftime.
"They didn't play great at all the first half, in large part because we really guarded them," Self said. "Their best offense was our offense, which is pretty sad to say, because they scored off our offense. Bad shots led to run-outs. Turnovers led to numbers."
Kentucky used a 24-7 run to bust a 30-30 tie and put the game away by the 10-minute mark of the second half.
Self, who watched game film upon the Jayhawks' 7 a.m. return to Lawrence following an early-morning charter flight, said it was a "good teaching tape." He held a film session and practice Wednesday night.
"This is what I think we take for granted sometimes, and I as a coach take for granted ... we had one guy (on team) who has actually had pressure on him ever before in a game. That's Tyshawn (Taylor)," Self said of the senior point guard who scored 22 points, but had five shots blocked.
He then rattled off the names of Elijah Johnson, Thomas Robinson, Travis Releford, Jeff Withey, Conner Teahan, Justin Wesley and Naadir Tharpe as "never having any pressure on them (before).
"You say, 'Well that's not true, he played in this game or that game (in past).' No, no, no, no, no," Self said. "He (may have) played in that game. He stayed in the game if he played really, really well. If he didn't play well, he was coming out because there's a lot of guys that look alike we could put in.
"We knew that going in, but I thought it was a different feel. The guys were juiced, jacked, played hard, went after the ball with two hands, did good things, but there was some doubt that crept in. When you are not quite as confident, you do look slow and hesitant. That will change."
Self remembers lots of past KU players who struggled while gaining game experience.
"The first real game Mario Chalmers played in or Julian Wright played in ... we couldn't play them," Self said. "It's not unusual this happened. Still yet, we could have been right there if we played smarter offensively."
Posing: A Hawk Talk caller asked Self about KU junior Robinson posing for the ESPN cameras after a vicious slam dunk in the first half.
"Last night it bothered me. Our whole game plan was, our bigs (after baskets or secured rebounds) had 3.0 seconds to cross the free-throw line extended on their end, because they run so well," Self said.
"He posed for two seconds. Tyshawn got his first foul because Thomas posed. He should have been in the exact spot where Tyshawn's man drove him and picked up the foul. He got his second foul right after that when the first one shouldn't have occurred."
Self said, "that will be good teaching tape. Put it in perspective. It's in the Garden. You are walking around, and Spike Lee is talking to you here, other celebrities are there, all sitting in the front row. The place is jumping. This is big-time atmosphere in the most historic building in the world, and our guys are so excited. Sometimes things happen from an excitement level early on we can correct and maybe put us in a situation we can handle a little better moving forward."
Recruiting: Andrew White, a 6-6 senior forward from Miller School in Chester, Va., did not announce his college choice Wednesday, the last day of the early signing period. Various recruiting analysts believe White may have signed a letter with one of his finalists (KU, West Virginia, Texas, North Carolina State, Georgetown) and will announce at a family gathering at the end of the month.