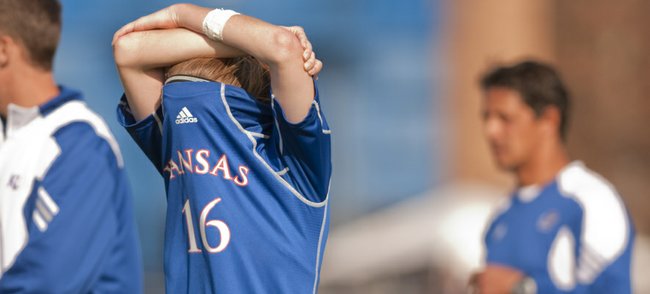 Kansas University's soccer team had a quick exit from the NCAA Tournament on Sunday, but it was enough to get a taste for the postseason.
Georgia booted the Jayhawks from the first round of the tournament at Jayhawk Soccer Complex, 2-0, and it might have been one of the best outcomes for a young Kansas team.
"It just makes you a little hungrier to get back next year and do better," KU coach Mark Francis said.
The Jayhawks (11-9-1) have three seniors on the roster, but much of the team is built on freshmen and sophomores. The last time Kansas made the NCAA Tournament was 2008, when these seniors were freshmen. Sunday, there was a sense the players were new to the playoffs.
In the first half, both teams struggled to get shots. The Jayhawks were around the goal more than the Bulldogs, but couldn't make anything of it.
Junior Whitney Berry, who had one of Kansas' four shots on goal, gave credit to the Georgia defense for defusing any chance for a score.
"Any time we got up there with the ball, it was just cleared out every single time," she said.
Georgia (13-6-2) finally took control in the second half during a seven-minute stretch that ended up determining the match. The Bulldogs kept chipping away at the goal until Ashley Miller scored in the 51st minute, and Alexa Newfield drilled another one in the 58th minute.
Francis said there weren't a lot of opportunities for goals by either team. He saw Georgia with three opportunities and Kansas with two. The Bulldogs simply converted what they were given.
The Jayhawks are disappointed, sure. But considering last season's 6-13 season, the team has a good feel for the future. The Jayhawks spent this offseason doing anything they could not to repeat the forgettable season.
"The players are like, 'We aren't doing that again, it wasn't any fun,'" Francis said.
The Jayhawks have a new standard, and it's higher than it was coming into this year. They reached the playoffs, which to them is a good milestone. But now with that taste of postseason play, they want to savor victory.
"We have the greatest mentality since I've been here that this team has had," Berry said. "As long as we keep working hard and keep doing what we're doing, we're going to go far."
Francis said the juniors such as Berry and Shelby Williamson are going to have to lead the team and get the Jayhawks to have a killer instinct. The coach's hope for next year is sky-high.
"I told this team at the end that I expect great things out of this team in the spring and going into next year," Francis said. "We can accomplish next year what no other Kansas team has ever done."