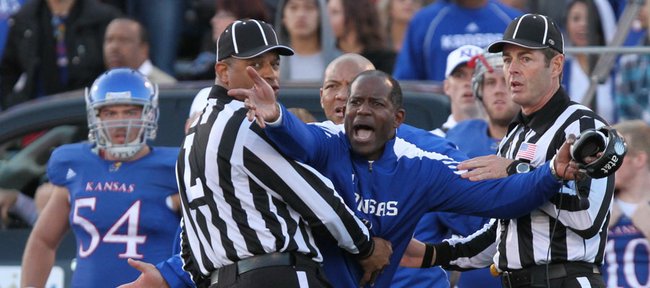 With the losses mounting and the embarrassment escalating, even Kansas University football players are starting to realize that coach Turner Gill's future at KU may be in jeopardy.
Instead of getting angry about it, as many have done during the past few weeks, several players have shifted gears and begun lobbying for their leader.
"We're fighting so hard for him and for what people say about him and his job security," senior linebacker Steven Johnson said after Saturday's 31-30, overtime loss to Baylor. "I really think he should stay here for a long time. He's a good coach, and we're just on the brink. We're fighting. We're fighting. We're close, and as soon as we get that win, I'm pretty sure everything's gonna turn around."
Asked Sunday night if he appreciated his players going to bat for him, Gill deflected the spotlight from himself.
"It's not about me," Gill said. "It's really about them. It's about our program. However they want to do things to continue to have them work hard for our football program."
Gill, who arrived at KU in December of 2009 with a 20-30 record in four seasons at the University at Buffalo, has won just five times at Kansas in nearly half as many tries. Only one of those victories — last year's wild 52-45, comeback victory against Colorado — came in Big 12 Conference play, and 14 of the 17 losses have been to league foes.
While so many of Gill's losses have been blowouts, there have been a few like Saturday's, of which KU had complete control for three quarters, only to watch it fall apart in the fourth quarter and overtime.
The Jayhawks continue to praise Gill's approach.
"Coach Gill is very consistent, and he's a great coach," senior lineman Jeff Spikes said. "He coaches that you gotta come out and work every day, regardless of what the situation is. Regardless of what happens, you gotta keep your head up."
Although Gill has struggled to instill a winning attitude in this team, he has succeeded in getting his players to follow his popular "Believe" mission statement. Week after week, blowout after blowout, the Jayhawks have bounced back with a positivity. Still, several Jayhawks said they couldn't help but think about what will become of the coach who taught them to do that.
"It's on our minds a little bit," Johnson said. "We try not to worry about it, but, at the same time, it's difficult going through a coaching transition because we've created friendships and bonds with all these coaches, and when we never win, it's hard. And in games like this, where we should've had a win, that's even more difficult. It just hurts. But I just hope that we continue to give coach Gill a shot because he's a good coach, and I'm pretty sure this program will turn around."
Added Spikes: "Our job is not done. We will not lay down and give up or quit. We won't. Regardless of losses or records or how much we score or don't score, we're gonna come back every day. And that's all you can ask for."