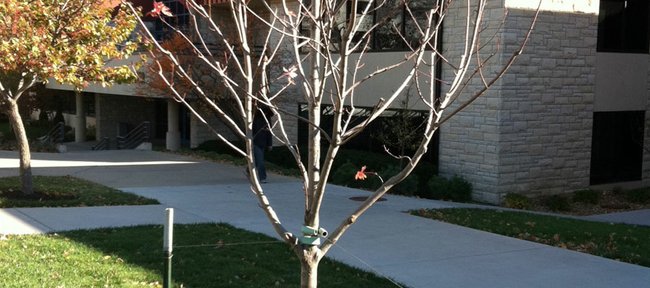 A loving, lasting tribute to Lisa Robinson, the mother of Kansas University junior basketball power forward Thomas Robinson, stands about 15-feet tall outside Wagnon Student Athlete Center, to the West of Allen Fieldhouse.
It's a baby Auburn Blaze Maple tree — currently carrying about 10 orange and red leaves with many more sure to sprout next spring — planted by Thomas, KU director of basketball operations Barry Hinson and two KU facility workers on a gorgeous Oct. 5 afternoon.
The tree will stand forever in honor of Lisa, who died Jan. 21 of apparent heart failure at the age of 42.
"Coach (Bill) Self thought it would be a good idea I do something in memory of my mom, something like a plant or a tree. He came up with a couple ideas a few months ago," Robinson said Thursday. "I told him a tree would be the best thing. It'd be there forever. One day coach said he'd picked a spot. We went and looked at it and the rest is history."
Right before the tree was planted, the 6-foot-10 Robinson asked the groundskeepers if he could place something special in the soil.
"I wrote a letter to my mom, put it in the tree and planted it," Robinson said.
He's thrilled that the tree is located just outside the main entrance to Wagnon, which houses KU's basketball offices.
"The tree reminds me every day before I come to the gym that I have to work hard," Robinson said. "My mom would want me to work hard, so every time I look at that, I remember what I've got to do."
Robinson made a point of sharing the tree-planting experience with Hinson, who accompanied him to Washington, D.C., to help with the arrangements for Lisa's funeral last January. Several of Robinson's relatives consider Hinson as close as immediate family.
"When they were planting the tree, not a word was said, no words needed to be said," Hinson recalled. "Everybody understood what was going on. We all stepped back and, in Thomas' fashion, he was gracious in thanking them (groundskeepers).
"I don't mind telling you every time I walk by that corner, I see the tree," Hinson added. "I'm a tree guy. It's a Maple and will be beautiful. People will see it and know it honors Lisa's life and her roots will always be planted in the history of KU athletics, right here in front of our building."
Hinson said it's no coincidence the first leaves were "gorgeous."
"Bright red and orange. It's a great tree in honor of a great person," Hinson said. "Her memory will last for generations to come. I think Thomas someday will put a plaque there that will signify the tree is for his mother, maybe put a favorite saying there as well."
Self continues to speak in glowing terms of Robinson, who was named first-team preseason All-America by cbssports.com.
"From a basketball standpoint he is still immature. He hasn't played that much, hasn't had a situation where everything is designed (by opposing team) to slow him down," Self said. "From a personal standpoint, he is way beyond his years. He was forced to go from being a young man to a man in a span of 30 days (last winter when two grandparents and his mother died). You'd never wish that on anybody, let alone somebody you care about. One reason he'll play better basketball-wise is because he's playing for others.
"He wakes up every day thinking he has to do that. He is doing it for himself and his sister (Jayla, 9, who lives in D.C. with her father). He doesn't have a lot of other family. He has something inside him that few people possess," Self added. "He has been a pillar for everybody to look up to. I really hope he has a great year about as much as I hope that for any player. I think he deserves it."