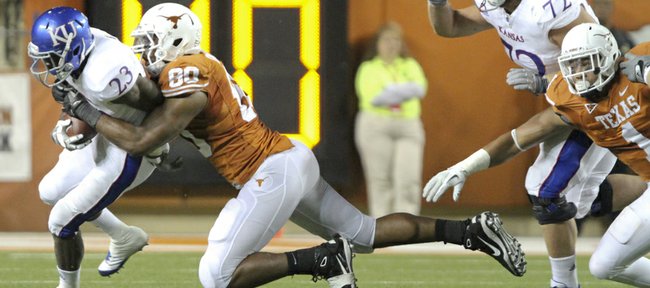 The running game no longer appears to be a strength for the Kansas University football team.
After averaging 4.5 yards per rush through non-conference play, KU is averaging a Big 12-worst 3.2 yards per carry in five league games.
That includes a 20-carry, negative-2-yard showing against Texas last week — a performance KU offensive line coach J.B. Grimes believes is an outlier.
"You look at our eight football games, and out of those eight, seven of them we've functioned pretty well," Grimes said. "In the eighth ballgame, hey, it didn't happen for us down there in Austin. There's a whole lot of folks that have been bucked off down there in Austin. I'm not trying to make excuses, but it happens."
Much of the reason for KU's struggles against UT, Grimes said, was simply the talent level of the Longhorns' defensive linemen.
"I think every one of those cats is going to make a lot of money," Grimes said. "They're really good."
The Texas talent doesn't completely explain KU's struggles over the last two games, though.
Against Kansas State, the Jayhawks rushed 37 times for 76 yards.
That means, in KU's last two games, it has rushed 57 times for 74 yards — an average of just 1.3 yards per carry.
The Jayhawks' longest run in their last 57 carries? A 10-yard rush by Darrian Miller against K-State.
"We've just got to put together a better gameplan, for us as coaches, to give us a better chance," KU coach Turner Gill said of his team's running game. "But I think also we've got to get off the ball, we've got to do what we've got to do, as far as our five guys getting off the ball, plus our tight ends, too — the six guys that are going to do the majority of the blocking."
This week, Grimes has focused on fundamentals with his linemen, including work on first and second steps, pad level and correct technique with hands, feet and eyes.
"They're getting there. They really are," Grimes said. "We've been able to keep these five guys together, and that's a big deal."
The second-year offensive line coach also has been encouraged by his players' demeanor during KU's six-game losing streak.
"I've got to tell you all, guys, it's fun to go out on the practice field. It really is, and that's unusual in a situation that we're in right now," Grimes said. "It's very unusual to go out there and have fun on the practice field and get some work done. And there's still a good spirit about this group."
Grimes has been especially pleased with KU senior center Jeremiah Hatch, who has kept his weight down while also turning into a leader for this year's team.
"The key is, when you fall, get back up," Hatch said. "That's what we plan on doing this week."
Even after a rough stretch, Grimes said he "couldn't be more proud of a group of guys" after seeing his offensive line's resilience.
"There's an approach to it right now that those guys are taking where, ... 'Yeah, it's tough right now, but we're going to get better. We're going to work our way out of this thing,'" Grimes said. "And I really believe that those guys believe that. I know I do."