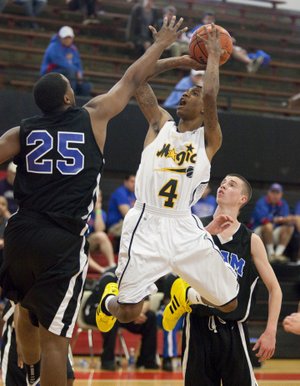 Nino Jackson, who lives in Ardmore, Okla., plays AAU basketball for the Compton (Calif.) Magic.
How'd that marriage come about?
"Connections," Jackson, a 6-foot-2, 175-pound junior point guard from Ardmore High, said with a smile Saturday. He'd just scored 14 points with four assists and three steals in Compton's 77-52 rout of Team Swish in a Jayhawk Invitational game at Lawrence High.
"They saw me playing a little bit last year and asked me to come play with them," added Jackson, Rivals.com's No. 38-ranked player in the Class of 2012.
"It's hard to practice now because school is still in (session), but after that, I'll play with them more."
Jackson, who on Saturday listed KU, Baylor, Oklahoma and UNLV as his list of schools (he recently mentioned Texas and North Carolina as well), showed perfect shooting form Saturday in drilling a pair of three-pointers.
What stood out most, however, was his athleticism and ability to race up and down the floor.
"Yes," he said, asked if he's always the fastest guy on the court. "You've got to step it up, speed up more than anybody else to get it done."
Jackson showed a lot of personality Saturday, smiling a lot and talking a lot.
"I'm just a cool kid. I like to play basketball, like to have a good time on the court," said Jackson, who sat out most of the second half because of the lopsided score.
"Talking to the refs makes the game more easy and more fun. I like to help everybody have a good time. If you have fun when you are playing, your game will come right to you."
Jackson, who averaged 18 points a game his junior season of high school, says he'll take official recruiting visits in the fall.
Where does KU stand?
"I'm a KU fan," Jackson said. "I'm still weighing my options. It's hard, but the recruiting stuff is kind of fun."
Highlights: Robert Upshaw, a 6-10, 250-pound junior from Edison High in Fresno, Calif., had 14 blocks, 11 rebounds and 10 points in Dream Vision's 83-60 win over Kansas Mustangs. Shabazz Muhammad, 6-5, 210 from Bishop Gorman High in Las Vegas, scored 28 points in that same game. ... Perry Ellis, 6-8 from Wichita Heights, scored 20 points in a 74-54 win over Minnesota Southside, 24 in an 83-53 win over Kansas Mustangs and 19 points and seven boards in a championship-round game vs. Oklahoma Elite ... Mitch McGary, 6-10, 250 center from Brewster Academy in Wolfeboro, N.H., had 20 points, 10 rebounds and five blocks in SYF Players' 81-37 win over Minnesota Comets.
Lacey not in town: Trevor Lacey, a 6-3 senior from Butler High in Huntsville, Ala., did not make his official recruiting trip to KU this weekend. His home state was devastated by tornadoes earlier this week. Lacey, who is down to KU, Kentucky, Alabama and Auburn, has yet to reschedule his visit.
Murray to West Virginia: Former La Salle center Aaric Murray reported on Twitter on Saturday that he's transferring to West Virginia. Murray at one time had KU on his list of schools.
Anderson flap: Braeden Anderson, a 6-10 high school senior forward from Canada who recently signed to play at KU, has been mentioned in an ESPN.com article regarding his relationship with former Louisville and Robert Morris College player Brandon Bender.
Bender reportedly was asked to leave the players' hotel at the recent Derby Classic in Louisville because of his reputed ties to an agent.
"I'm here to see that kid," Bender told ESPN at the Derby Classic. He was referring to Anderson, whom he coached last summer at an AAU tourney in Las Vegas.
Anderson, who is not ranked in Rivals.com's top 150, said Bender in no way influenced his decision to attend KU.
"If I (listened to Bender), I wouldn't be going to Kansas," Anderson told ESPN. "I don't know him real well. I talked to him maybe a few times, maybe sent him a message on Facebook a few times. He stopped by (team hotel), said he had mail for me from other schools. I chucked it. I'm going to Kansas."
It is not against NCAA rules for prospects to speak to individuals with ties to agents (sometimes known as "runners") as long as they do not accept improper benefits. ESPN did not allege Anderson accepted benefits, but quoted anonymous sources as saying Anderson stayed in Louisville a couple weeks this school year with former Louisville football player Rodney Carter.
Anderson acknowledged to ESPN that Carter is "a good friend." While in Louisville, allegedly staying with Carter, Anderson took an unofficial visit to Kentucky.
Bender — he's been tied to various college prospects according to ESPN — said he hasn't broken any NCAA rules.
"I haven't done anything wrong," Bender told ESPN. "If a kid calls me and says, 'Brandon, help me find a school,' I'll do it. I'm trying to do the right thing. I don't want any distractions. I just want to get into college coaching."