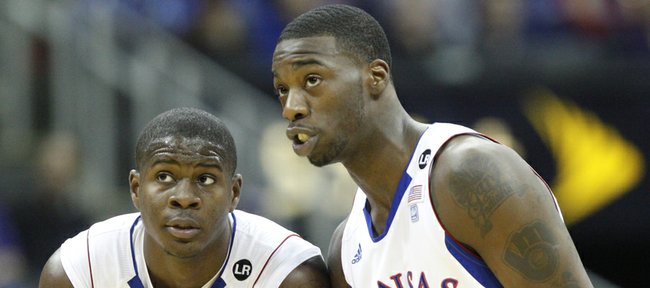 Kansas City, Mo. — For about a minute during Thursday's 63-62 victory against Oklahoma State in the second round of the Big 12 tournament, Kansas University guard Josh Selby had it going.
Selby, KU's freshman phenom from Baltimore, has endured an erratic run through his first season of college basketball. But for a brief moment Thursday, Selby looked more like the player KU saw against USC in his debut last December and less like the player who has scored 29 points in his last seven games.
With 3:13 to play in the first half, and KU trailing 37-30, Selby took a pass from Markieff Morris behind the three-point line and buried the shot. The success on offense inspired better effort on defense and on the next offensive trip, Selby caught another pass and let another three-pointer fly. It missed, and Selby's day basically was done. He played just three minutes in the second half — 11 for the game — and finished 1-of-3 from the floor with one foul.
Though his play has not matched the insanely high expectations placed upon him, Selby seems fine with his current reality. The main reason?
"I was a little frustrated at first," he said. "But I put all the individual accolades aside. It's all about the team right now, and I want rings. So, if we're winning, I'm cool with it."
The words Selby utters aren't just lip-service. Though he's fallen from his status as a sure-fire NBA lottery pick, he walks with the same strut and exudes confidence. Perhaps the gray T-shirt with black lettering he wore in the locker room after Thursday's victory offered a glimpse as to why. "Life Is Too Short ... " it read.
Perhaps more important than Selby's view of things is the way his teammates look at him.
"He's slumping now, but there's gonna be a time when he's gonna be an integral part of what we do and today he hit that big shot," senior guard Tyrel Reed said. "He's finally getting back into a rhythm, with practice and everything. You can see it. And I'm looking for him to step up and do some big things."
Added senior Brady Morningstar: "He's been through so much stuff this year, it's tough to really even say what he's going through. But, as a teammate, when he's out there on the court, he's just one of five guys that have to come together, and I know he's a scorer, so when I'm out there with him, I'm trying to get him the ball."
Though Selby said he and KU coach Bill Self had not talked specifically about a role change, the 6-foot-2 guard said his focus was on being ready when called upon and savoring his first taste of postseason basketball.
"If we lost, I wouldn't have enjoyed it," Selby said. "But I'm enjoying it now because we won."
As for his future beyond his freshman season at Kansas, Selby said that's not even on his radar.
"I was thinking about it before. Every kid thinks about it," he said of the NBA. "But I'm not thinking about it now. I'm working hard to try to get these rings. I want our seniors to get theirs before they leave. So as long as we keep winning, I'm good. That's why I always keep a smile on my face and cheer for my team."