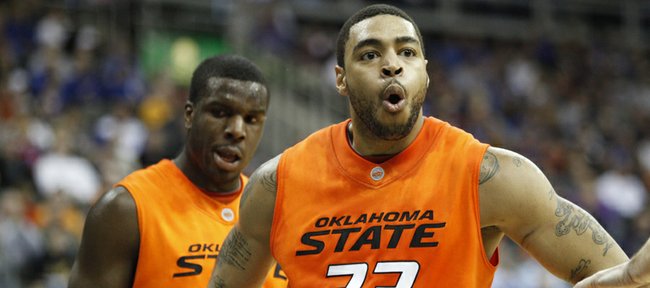 Kansas City, Mo. — Oklahoma State forward Marshall Moses didn't mince words when talking about his controversial fifth foul — a charge against Kansas University's Mario Little with 2:55 remaining in OSU's 63-62 loss to KU on Thursday afternoon.
Moses bounced into Little while dribbling a few times before Little launched himself backwards to draw the whistle.
"That's a terrible call. I don't know how coach feels about me saying that to the media, but that's a terrible call," Moses said. "Good defense by Mario Little. That's a veteran move, pulling the chair out on me.
"He knew I was going to try to back him down; I'm bigger than he is. But I don't think anybody in America who saw the game would say that I fouled him."
Moses, one of three Cowboys who fouled out against the Jayhawks, apologized for some of his actions, saying he was "a little out of character toward the referee."
Still, he wasn't backing off his stance regarding the call.
"I didn't foul the guy, and I can't even pretend like I did just for media purposes," Moses said. "Like I said, all credit to Mario Little. That was a great play. It was smart. It was a veteran play.
"But for the referee to give me that fifth foul on that, especially late in the game, I thought that was maybe the worst call I've gotten on me all year."
Without forwards Moses, Matt Pilgrim and Jarred Shaw, the Cowboys were limited on their last possession when trailing, 63-62, with 20 seconds left.
OSU coach Travis Ford was forced to put shorter players at positions they'd rarely played this season. He hesitated calling a more complex play, figuring his players might not know their responsibilities at their new positions.
The Cowboys also became easier to defend, as KU was able to switch on every ball screen without worrying about the potential mismatch of having a guard defend a big man.
Ford opted to try to space the floor to run the weave — a play that had been successful earlier in the game. The hope was that one of his players could create off the dribble and either make a shot or draw a foul.
The Jayhawks, however, were sound defensively, as Little forced a bobble from OSU's Reger Dowell, then contested Jean-Paul Olukemi's final shot.
"They did what good teams do. They didn't make a mistake," Moses said. "A lot of teams in that situation get panicky and frantic. They didn't."
After the game, Moses embraced Marcus and Markieff Morris in the handshake line.
"I just told them, 'Go win the whole thing,'" Moses said. "I think they're a good team. I think they're the best team in America, other than Duke, and I think they're better than Duke.
"I just told them, 'I respect your guys' game, and I think y'all should win the national championship.' I think that's a national championship-type team."