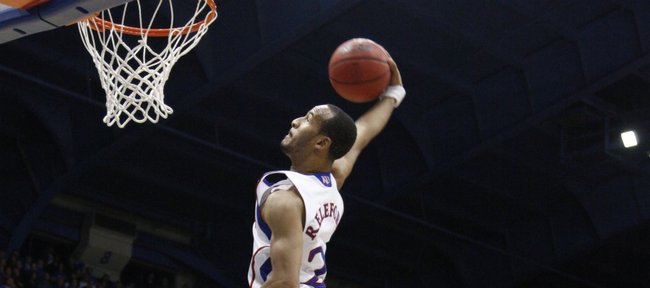 Travis Releford's windmill dunk Wednesday was so impressive, even the opposition complimented him.
Immediately following the Kansas University sophomore's highlight-reel slam in the second half of KU's 99-52 victory over UMKC, Releford's longtime friend — and UMKC guard Michael Gholston Jr. — found him on the court.
"He was like, 'You really got up on that one,'" Releford said with a grin. "We laughed about it."
It was the second time this season that he'd heard about one of his dunks from an opponent. Releford said one of the Texas A&M-Corpus; Christi players also approached him after his rocking, reverse jam on Nov. 23, asking him, "Why'd you have to do that to us?"
"It's just whatever comes to mind at the moment," Releford said of his slams. "I don't go into a game planning what fast-break dunk I'm going to do, because I never know if I'm going to have one or not."
Releford explained that he always looks to see where the closest defender is before attempting anything flashy.
Asked what percentage of the time he normally executed that exact windmill dunk, Releford said 100 percent of the time in games.
That's because he's only done it twice in a game.
"I've been doing that since middle school I think," Releford said, "so it was kind of easy."
Releford said that as long as his dunks resulted in two points, he was in the clear with KU coach Bill Self.
"If I miss, then I'm going to hear it. I'm going to have to pay the price for it," Releford said. "But if I make it, it's a great play, because it gets the crowd into it. Coach, he enjoyed the crowd getting into it."
The 6-foot-5 Releford contributed in other ways as well against UMKC, tying a career-high with 13 points on 4-for-7 shooting in 18 minutes. He also went 2-for-3 from three-point range and served as a much-needed defender in the post with Thomas Robinson not available because of his grandmother's death.
"Travis does try hard," Self said. "He's kind of a bad matchup down there for them, too, because he can drive (against) a big. He obviously made a couple shots tonight from range.
"He's a good player. Travis is a good player — a good all-around player."