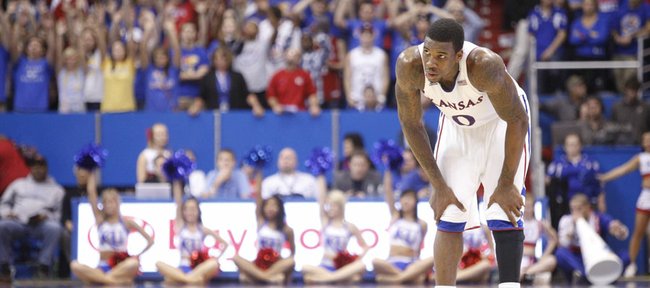 Podcast episode
Kansas coach Bill Self talks to reporters on Nov. 30, 2011 after defeating Florida Atlantic.
Videos
KU vs. Florida Atlantic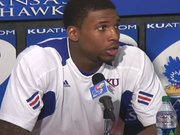 Kansas defeated Florida Atlantic, 77-54 on Wednesday, Nov. 30, 2011 at Allen Fieldhouse.
KU vs. FAU
Kansas University's basketball team, which drew rave reviews last week in Maui, looked like a squad with a case of jet lag in a 77-54 victory over Florida Atlantic on Wednesday night in Allen Fieldhouse.
"It was a Hawaii hangover. We had too much pineapple juice on the Islands," KU coach Bill Self said, forcing a smile after a game in which his team labored offensively.
The Jayhawks (4-2) hit 43.6 percent of their shots (four of 13 threes) while dishing just 11 assists against 17 turnovers.
"I knew they'd be flat. You look at those teams coming back from Hawaii ... nobody has really looked very good. UCLA beat Pepperdine. Other than that, everybody has gotten their clock cleaned pretty good. It's probably good we were home," he added, noting, however that, "the building wasn't juiced (and), we didn't do anything to juice the building."
Self had a long list of negatives.
"They got the ball where they wanted to get it. Our defense was not any good," said Self, whose team forced just 10 turnovers while holding the Owls (3-5) to 32.3 percent shooting (including four of 17 threes).
"Our guard play, to put it nicely, was horrific. You can't play worse."
Elijah Johnson had seven turnovers, three assists and zero points in 27 minutes. Tyshawn Taylor had 18 points off 5-of-12 shooting with one assist against four turnovers in 32 minutes.
"He is still in Hawaii. He did not get hungover. He got left there," Self cracked of Johnson. "That was a poor night for him. He wasn't able to change it, which is a little frustrating. He certainly labored."
Of Taylor, Self said: "Tyshawn has become a scorer. He has to be an initiator. He is not doing it. Elijah is not doing it. In practice we've looked really good (since Hawaii). I think we took a step backward tonight."
Self has kept some stats regarding his guards.
"Since Towson (opening game), when we had 30 assists and five turnovers, our starting guard (Taylor) has had 16 assists and 21 turnovers, our starting 2 guard (Johnson) has had 13 assists and 15 turnovers, and our starting three guard (Travis Releford, 11 points, six rebounds, four assists Wednesday) has seven assists and 10 turnovers. It tells you right now we have the poorest ball-handling backcourt of anybody in the country. You talk assists/turnovers, nobody has it like that."
Self did laud Conner Teahan (nine points, four rebounds) for hitting a pair of threes in a 22-4 run that opened a 36-18 lead.
Yet ...
"The thing that disappointed me tonight were some individuals. What a great teaching lesson. When things aren't going well, how do you change it? How do you man-up and make somebody else better?" Self asked. "How do you do something rather than just mope around and feel sorry for yourself, which is what one of our players did tonight."
It's believed he was referring to junior off guard Johnson, who did grab four rebounds on a night KU out-boarded the Owls, 53-32.
"To me, that is a sign of immaturity, selfishness and those sorts of things," Self said. "If we can correct that and realize it's about us instead of me, we'll get good real fast because I do like our team. I think we have nice pieces, but we can't play carelessly like we played. How can you expect to beat good teams moving forward unless we take care of the ball better?"
The star of the game — KU's Thomas Robinson, who had a career-high 17 rebounds to go with 19 points — acknowledged that the squad has had severe lapses on the offensive end.
"It's something that will come with time, keeping our focus and not catching ADD halfway through the game," said Robinson, who indicated he made it tough on himself by putting the ball on the floor too much. "We're only six games into the season. We've played a tough schedule. We've done well so far, but it's still only six games in, with 30 more games probably. It's going to be here a couple more games probably. I think we're a little ahead of schedule, but at the same time we have to keep moving. Eventually we'll be a good team."
Considering everything, "I'm pretty pleased leaving here with a 23-point win," Self said.
KU will meet South Florida at 4:15 p.m. Saturday in Allen Fieldhouse.