Podcast episode
Kansas coach Bill Self talks to reporters on Nov. 30, 2011 after defeating Florida Atlantic.
Videos
KU vs. Florida Atlantic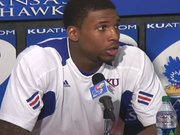 Kansas defeated Florida Atlantic, 77-54 on Wednesday, Nov. 30, 2011 at Allen Fieldhouse.
KU vs. FAU
Potential, many a wise man who makes his living evaluating athletes will tell you, is a French word for "ain't bleepin' got it yet."
It's a word not often used to describe a college basketball player who produces 19 points and 17 rebounds in a game as Thomas Robinson did in Kansas University's 77-54 victory against Florida Atlantic, but it fits him.
Watching Robinson play basketball, two thoughts generally leap to the forefront:
Have I ever seen a better defensive rebounder play college basketball? The reason that thought recurs might have something to do with never coming up with a name.
How much better will he be once he makes better decisions offensively and realizes that although he has the skill to drive, it's not always a good idea to showcase it if there's nowhere to go with the ball.
Also, out of nowhere, in some games he'll put up a shot from the perimeter, as if to show his outside shot has improved. It has, but it still doesn't behoove him or his NBA Draft stock to showcase that in games when it's not the smart play.
He'll figure all that out because he cares, as long as someone's not in his ear telling him anything that clashes with the words of his coaches.
Kansas (4-2) has played six games, and Robinson has six double-doubles. His 17 rebounds were a career high. He made 11 of 13 free throws, both career highs, as was the 84.6 percentage. He also matched a career high with four blocked shots, one of them that crashed so hard somebody should probably check the floor for dead spots.
After committing three turnovers and making four of 13 field goals, he didn't feel as if he had any cause to boast. He can play much better, and he knows it. Florida Atlantic made him the focus of its defense all night.
"I made it tough on myself," he said. "I knew they were going to swarm me, and I kept putting the ball on the floor over and over. Once I do that, it goes from two people to four people, and they're just swatting at me. I made it tough for myself. It definitely was a little rough, but, I mean, it happens."
The nice thing about Robinson as a player is that his flaws don't originate from not putting forth effort. He always brings the energy, and Wednesday was no exception. The same couldn't be said for many on a team that exhibited post-Hawaii blues.
The crowd didn't have much energy either, although that could be traced in part to the music during the popular pregame video getting cranked way too loud, bombarding the senses of those in the audience and leaving them in need of recovery time. Too much of a good thing is a bad thing, and before you know it, a college building, even one as intimate and rich in tradition as Allen Fieldhouse, can begin to take on the feel of an NBA arena. It hasn't yet, but if the volume switch goes unchecked, look out. Authentic noise generated by human emotion creates home-court advantages.
Robinson's energy level never is a concern. Neither is his rebounding.
"I don't go into the game thinking about having a double-double," Robinson said. "Not being cocky or arrogant or anything, I feel that I can get that easily as long as I'm on the floor."