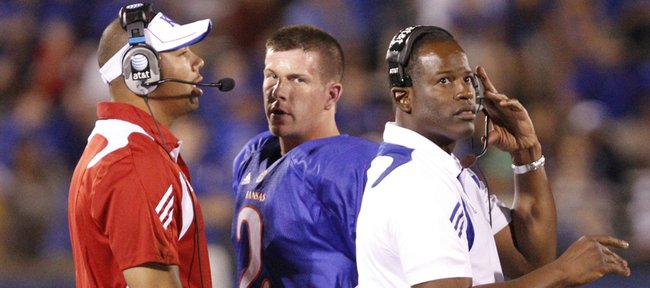 There is more to the story of why the Kansas University football team's offense had so much trouble getting plays to the field in a timely manner Friday than KU's coaching staff has let on.
The Journal-World has learned that KU administrators informed coach Turner Gill prior to Friday's game that Joe Dailey, KU's on-campus recruiting coordinator, no longer could signal in plays from the sideline because of a change in an NCAA rule that was made early this year.
Dailey, a former Nebraska quarterback who played under Gill at NU and later coached with him at the University of Buffalo, was one of the people responsible for relaying KU's offensive plays from the coaches in the booth to the quarterback on the field. He executed this role in KU's first two games, but did not last Friday.
KU associate athletic director Jim Marchiony said Wednesday that the mishap was discovered by "everybody" — athletic administrators, as well as the coaching staff — and administrators moved quickly to ensure that the Jayhawks no longer would be in violation of the rule.
"For the first two games, Joe was signaling plays in," Marchiony said. "There was a rule change earlier this year about that, so when the staff realized that he wasn't supposed to be doing it, they stopped. And that occurred last week."
Marchiony did not know exactly when the athletic department informed the KU coaches about the change. But regardless of whether it was on Monday morning or on gameday, it clearly put KU in a tough spot considering Dailey had a firm grasp on KU's offense and had shown solid communication with quarterback Jordan Webb in an upset of No. 15 Georgia Tech on Sept. 11.
It was unclear who took over Dailey's duties last week. Like many teams, the Jayhawks used their third-string QB, junior Quinn Mecham, who wore a headset and signaled plays. Another member of Gill's staff also sent plays onto the field in Dailey's absence.
Despite last week's uncertainty, Gill said Wednesday that things were looking sharper in that department.
"We need to get the plays in quicker, and we're doing that," he said. "We've made some adjustments, coaching-staff-wise more than anything, (to make) sure that we can get things done in a better way for our offense to be more productive."
According to the NCAA rule book, the "Sideline Control" rule states that "the field level is for those who are performing a service associated with action on the field of play and for administration of the game."
Since Dailey's official function has nothing to do with the action on the field, he is not allowed to participate actively in the contest.
Or, as Marchiony put it: "The layman's version of the rule is that you cannot participate in that activity unless you're a full-time coach. Or a student manager could do that."
Marchiony said Dailey, as well as others, were within their rights to be on the sideline during games, as long as they were not coaching events on the field.
Because Dailey fulfilled the role for the first two games of the season, Marchiony said KU administrators planned to turn in the infraction.
"We are going to be extra-cautious," he said. "And we are going to report it to the conference as a secondary violation."
A secondary violation is defined by the NCAA as one that is "isolated or inadvertent in nature, provides or is intended to provide only a minimal recruiting, competitive or other advantage and does not include any significant recruiting inducement or extra benefit."
These types of violations are common in college athletics. Some reports have indicated that hundreds are turned in each week. Typically, they are self-reported by a university.
Gill a finalist at NMSU in 2004
In November, 2004, New Mexico State fired head coach Tony Samuel, coincidentally a former Nebraska assistant, and set out to replace him.
Gill, then an assistant at Nebraska, interviewed for the job and was a finalist. Instead of going with Gill, who joined the Green Bay Packers staff in 2005 and later went on to turn around the program at Buffalo, NMSU hired Hal Mumme, who went 0-12 during his first year and was fired in 2008.
Wednesday, Gill reminisced about his attempt to land the Aggies' job.
"I was one of the finalists, but things work out for the right situation, and I'm glad it's worked out for me to be at the University of Kansas," he said. "Any time you have experience, at anything in life, when you get one, two or three opportunities to interview for any job, I think you're going to feel a little bit more comfortable, and then you also find out what you need to do, what you need to work on."
Although he did not get the job, Gill said he inquired about what he could have done better, something he has made habit of doing.
"The few situations I've had, I actually have asked them, and they've been very kind and given me the information that I needed," he said. "But in most cases they just said that there was another person that fit better."
Freshman phenoms
If Webb and true freshman running back James Sims continue at the pace they're on, they will become just the third freshman duo in KU history to lead the Jayhawks in passing and rushing in a single season.
Through three games, Webb has thrown for 376 yards and four TDs to lead the KU offense. In just two games, Sims leads KU in rushing with 175 yards on 37 carries.
The last freshman tandem to lead a KU team in passing and rushing in the same season came in 1980, when Frank Seurer threw for 797 yards and Kerwin Bell ran for 1,114. George Gear (223 yards passing) and Dick Bertuzzi (360 yards rushing) also achieved the feat in 1945.