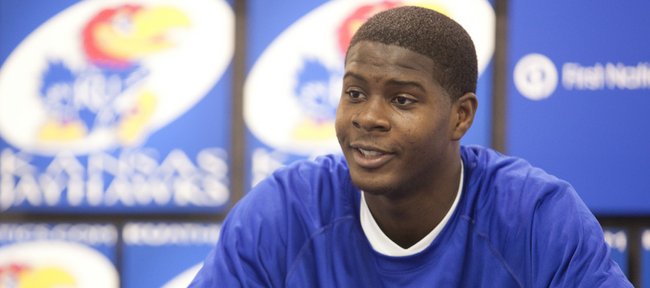 The Tennessee basketball program has reported several NCAA violations committed under coach Bruce Pearl, including nearly 100 excessive phone calls to recruits — including Kansas University freshman Josh Selby — and permitting families of recruits to stay longer than allowed by the NCAA when visiting Knoxville.
In memos from Tennessee to Southeastern Conference Commissioner Mike Slive, Tennessee cited poor record keeping, miscommunication and carelessness in documenting the number of phone calls made to Selby and nine other recruits.
The recruits mentioned in the memos included Selby; Elliot Williams, who played at Duke and Memphis; Florida State's Chris Singleton; Ohio State's Aaron Craft; Xavier's Justin Martin and Griffin McKenzie; and Rico Pickett, who signed with Alabama but now plays professionally in Europe.
Names of current Tennessee players involved were redacted from the documents.
Tennessee also acknowledged assistant coach Jason Shay approved the lodging expenses for the families of three recruits who stayed in Knoxville for their official visits longer than the 48 hours allowed by the NCAA. The Knoxville News-Sentinel said those recruits who stayed longer than allotted were: Tobias Harris, Jordan McRae and Tarik Black.
Tennessee officials declined comment on the matter, as did KU coach Bill Self.
Sources said the fact UT made excessive phone calls to Selby would not negatively affect his current situation surrounding his eligibility at KU. The NCAA could punish Tennessee over that matter, not the player who is enrolled at another institution now.
The NCAA continues to look into Selby's academic eligibility and status an an amateur. After missing a couple weeks of school, the 6-foot-3 point guard, who attended three high schools in Baltimore, was given the OK by the NCAA to attend class and be put on scholarship, but has not yet cleared to play in games during his freshman season. The matter is ongoing. Self said Wednesday he had no comment on that matter.
According to documents dating from April to July, Tennessee punished itself by reducing the number of days coaches could recruit from 130 to 104 and their number of official visits from 12 to eight and by banning associate head coach Tony Jones from making recruiting calls for three months and Pearl from making calls for nine days. Pearl also had his pay docked by $1.5 million over five years. He is prohibited from participating in off-campus recruiting for a year.
Pearl said Sunday that, "I hope that the things we did don't rise to the level of termination, because we run a clean program. We got investigated in a lot of areas."