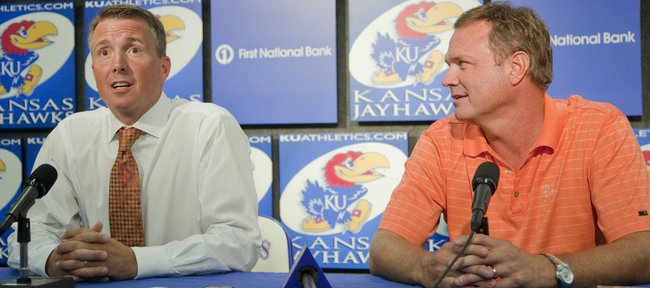 Lew Perkins retirement
Reader poll
A

26%

1431 votes

B

31%

1719 votes

C

15%

824 votes

D

12%

681 votes

F

14%

779 votes
5434 total votes.
Videos
Lew Perkins retires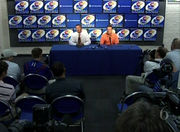 KU's athletic director retired abruptly Tuesday afternoon. Perkins was involved in many changes in the department, good and bad.
Feature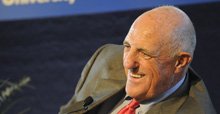 KU Athletic Director led the Kansas Athletic Department for seven years and retired on Sept. 7, 2010. Look back at his time at KU.
Bill Self made it perfectly clear Tuesday that he's not a candidate to replace Lew Perkins as athletic director at Kansas University.
"No, no," KU's eighth-year basketball coach said with a laugh.
He was speaking while walking back to his office following a late-afternoon news conference at Allen Fieldhouse — one called to introduce Sean Lester as KU's interim AD and to allow the media to get the 2008 NCAA title coach's take on Perkins' leaving his post a year ahead of an announced retirement date.
While not offering any speculation on possible candidates, Self at the news conference did respond to a question about what KU might be looking for in its next AD.
"I think that person in all honesty — like any athletic director across America — needs to be a person of very high energy and understand that the product that we have here is great," Self said.
"I've said this to Lew and to our chancellor — the athletic directorship at the University of Kansas is a far better position today than it was eight years ago. I do believe we should be able to attract the perfect fit for us and what we're looking for. To me, you could split hairs — this is what we definitely need, this is what we don't need — I am not going into that. I want somebody who will come in here and love this place as much as we love it and also be able to sell it and have a passion about it. I think there would be a lot of people out there very interested in doing that."
Chancellor Bernadette Gray-Little phoned Self at 11:30 a.m. Tuesday to tell the coach of Perkins' decision to step down. After that, Self phoned Perkins for a short conversation with his former boss.
"I think the chancellor, with the help of Sean and a group of others, will have her arms pretty well wrapped around it," Self said of the upcoming search.
"If she wants my input, certainly I would be very, very happy to give it," added Self, "but I don't think there is any way, shape or form that I am in a position to bring candidates to the table at all. I would certainly give my input if she asked for it, but I'm not one out (there) campaigning for anybody."
Self was encouraged after speaking to the chancellor.
"There is a plan, and from what I understand and from what I know, the plan is good," Self said, not revealing the chancellor's plan. "It's definitely a transitional period, but it's also a period of great opportunity. I'm not really excited about the timing, but I am excited about the direction."
He said he was "very surprised but not shocked," to hear from the chancellor.
"We knew it was coming, but surprised by the timing of it," Self said. "To be honest with you, I thought this would not drag out into next September. That was just my thought. I had no reason to base that on what people told me. I thought from a timing situation, that would be strange timing (new AD taking over in September of a new school year)."
Self said Perkins didn't inform him of his own personal future plans.
Perkins recently told the Journal-World he would be living in Lawrence during retirement.
"During the three- to five-minute phone call we had this morning, we didn't really go into that stuff," Self said. "I do think this. He's been in the business a long time, and he's served several universities very well. I think that with everything that has taken place here in the last 12 months and the microscope, so to speak, that he and the department have been under, I hope he takes some time to himself and his family to relax. I think he has deserved that."
Football coach Turner Gill gave his take in a statement: "I know that Lew Perkins is a man of vision. He came to the University of Kansas and has made each sport better in terms of athletics and academics. He has improved the facilities to aid in recruiting student-athletes to this great institution. He has taken into account the welfare of many coaches, staff and student-athletes in such a way that he will be missed by everyone. I hope the best for Gwen and Lew. I know that they will enjoy spending time with family and friends."
KU associate AD John Hadl spoke to the Journal-World Tuesday night: "Obviously I was shocked. I had no idea that was coming. Lew and I have talked lately about what was going on, the plans. He did a lot of good things for KU and the athletic department. We accomplished a lot of big agendas. You've got to give him credit for that. I think he'll be more relaxed now, feel good about what he's been doing and enjoy life.
"He's been in this business a long time — at Maryland, Connecticut, Wichita State. He's been around the horn. He understands the business pretty well.
"He's happy being here. I know Gwen (Perkins' wife) likes it here. I think the timing was right for him to do what he did."
KU baseball coach Ritch Price on Perkins: "For me personally and for Kansas baseball, it's been a real honor and a privilege to work for him. I look at all the successes he's had in the last seven years from the facility improvements to the Hall of Fame additions and renovations to Allen Fieldhouse and the Anderson Sports Complex down at the football field, Hoglund Ballpark improvements.
"He's left an incredible legacy. You look at his 42 years in this business ... I don't know if there's an athletic director in America who has had a more successful career."