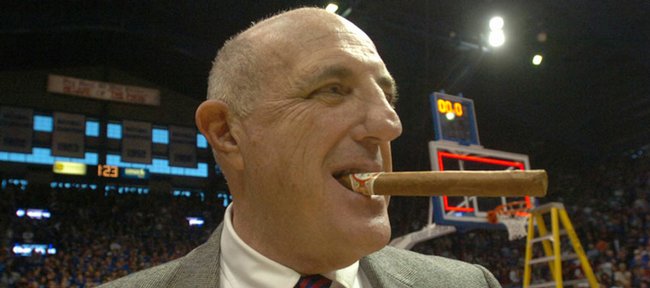 Lew Perkins retirement
Reader poll
A

26%

1431 votes

B

31%

1719 votes

C

15%

824 votes

D

12%

681 votes

F

14%

779 votes
5434 total votes.
Videos
Lew Perkins retires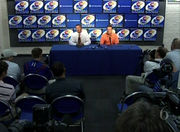 KU's athletic director retired abruptly Tuesday afternoon. Perkins was involved in many changes in the department, good and bad.
Feature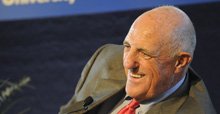 KU Athletic Director led the Kansas Athletic Department for seven years and retired on Sept. 7, 2010. Look back at his time at KU.
Money, the very thing that enabled Lew Perkins to gain such unfettered power during his reign as athletic director of Kansas University, raised its voice, screamed "Enough is enough," and brought about the end of his reign.
Know this: Perkins' retirement announcement Tuesday had nothing to do with Saturday night's embarrassing debut of Lew's hand-picked football coach, Turner Gill. It had been in the works for weeks.
It had to do with cold, hard cash, which always speaks with such loud pipes. Perkins used to be really good at raising it by sending his most talented tree-shakers, beloved John Hadl foremost among them, out to entice donations.
In the end, one embarrassing revelation after another — the ticket scandal, the exercise equipment installed in Perkins' Lawrence home, the published report that detailed his lavish spending habits charged to the athletic department, fear that more could be uncovered by the state ethics commission investigating him — so riled the alumni base that the school had to take action and approach Perkins about bypassing his lame-duck year and calling it a day. Donors, big and small alike, lost trust in the athletic department and the university and were heard by scaling back their generosity.
Here's how such divorces generally take place: The party approached about leaving says, OK, but it's going to cost you. For argument's sake, let's say Perkins' original offer went something like this, "Give me $3.2 million, and I'll clean out my office." The settlement turned out to be $2 million, less than it would have cost the university had Perkins sued and won for being fired without cause.
The lesson to be learned by KU: Never entrust one man with so much power. Always make him accountable. Don't let him speak through a spokesman. Have checks and balances in place. Remember, always remember, Kansas University is a public institution, not a closed circle, not a private club.
Surprisingly, given all the scandals that surfaced last year, this year, more than ever, the athletic department conducted itself as a private club open only to those who pay a ton of money at the door. For example, the football team had an intrasquad scrimmage that was open only to invited Williams Fund members. Even the press was banned. The in-house propaganda department issued a game report that included mention of a receiver dropping a 50-yard touchdown in the end zone. It did not mention his name. KU would decide what was news and what the general public needed to know.
Reading that redaction of an athlete's name from a game report gave me chills, brought me all the way back to the sleep-shorted nights of my youth when I stared at the ceiling and feared this would be the night the Soviets would crash through our door and take away all our freedoms. The replaying of the final seconds of the 1972 Olympic basketball gold-medal game until the Soviets scored to win did nothing to allay such fears.
Perkins and his army of loyal adjutants began to show signs of absolute power beginning to corrupt their attitudes when the department reached its highest success, in the days after winning the national title in basketball, a few months after winning the Orange Bowl in a 12-1 season.
Asked about plans for a downtown parade, Jim Marchiony, Perkins' chief minister of propaganda, said: "We're going to celebrate the way we want to celebrate. We're going to do what's best for our student-athletes."
Translation: It's our family, and you're not part of it.
Perkins' dictatorship was not without its benevolence. He paid employees well, upgraded facilities to give KU coaches a better shot at recruiting and always had a smile, kind words and sage advice for the student-athletes, the backbone of any athletic department. Perkins was well-liked by those within the athletic department who didn't cross him, frozen out by those he didn't consider part of the inner circle within the circle that KU athletics had become.
Many will look at the facilities built under his watch and consider that his legacy, provided not too much debt was run up making that happen. Others will let the success or failure of Gill's time as coach of the football team determine it.
Years from now, when I look back at the time I spent with Perkins while he was on the job, after the specifics of the building of the new football complex and basketball practice facility, the details of the exercise equipment scandal, etc., fade to black, I'll clearly remember the way Perkins' eyes and smile lit up the room as he interacted with Special Olympians during his annual golf tournament that has raised huge bucks for the great cause. Here's hoping the tourney continues. Perkins might be just the man who could figure out how to bring the 2014 Special Olympics to Lawrence. Nothing ambivalent about that slice of his legacy.